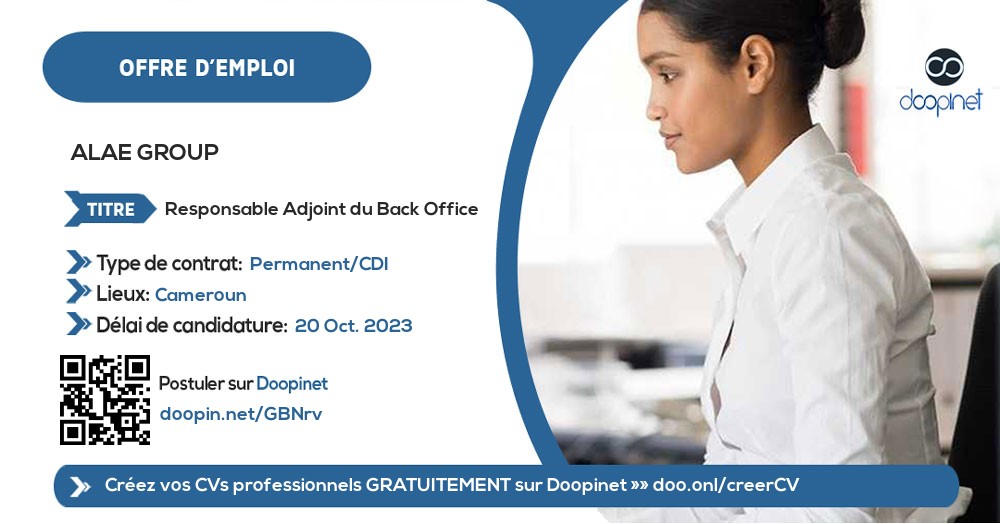 Responsable Adjoint du Back Office – Douala
Douala, Littoral, Cameroon
·
20 Oct. 2023
·
Permanant
·
Administration & Office
·
Office Manager
Description
Sous la conduite du Responsable Back Office, vous
avez en charge d'analyser les données concernant les différentes activités de
l'entreprise et de délivrer les analyses devant mener aux prises de décisions
opérationnelles, assurez la production des supports de ventes au quotidien et
participe aux prises des décisions stratégiques pour permettre une amélioration
des ventes.

Missions / Responsibilities / Activities
 Production & contrôle des supports de ventes au quotidien
 Contrôle et validation des résultats des jeux
 Vous gérez le risque financier en accord avec la stratégie
 Vous suivez les indicateurs clés
 Dégager les tendances calendaires, par segment d'activité, distributeurs, zone géographique etc…
 Mettre en place et organise les systèmes de benchmarking / Veille concurrentielle
 Participer aux analyses de fin de mois
 Mettre en place et alimenter les ratios de performance mensuels
 Proposer des évolutions stratégiques pour permettre d'atteindre les objectifs d'activité
 Réaliser les rapports de risque (Risk management)
 Administrer les différentes bases de données
 Mettre en place et participe à l'évolution des différents systèmes d'information de l'entreprise.
 Consolider les données quotidiennes (Etablie un reporting quotidien/hebdo de l'activité par Business Unit)
 Valider les différents fichiers de clôtures quotidiens
 Alerter sur les incidents d'activité ainsi que sur les faits marquants quotidiens
 Assurer le suivi des différentes balances distributeurs
 Assurer le suivi des balances / Facturation des fournisseurs I.T.
 Valider les chiffres d'activité de fins de mois
 Animer et former une équipe en perpétuelle évolution
 Structurer, standardiser et sécuriser les outils et les productions
 Contrôler et alerter sur les interactions avec les opérations
Job Requirements
De formation supérieure en Gestion (BAC+3/4), vous avez une expérience dans le domaine.
Votre sens de l'organisation, et de l'autonomie, sens de l'écoute ainsi que votre aptitude à travailler sous pression seront des atouts indispensables à votre réussite.
 Homme ou Femme
 Rigoureux (se) et organiser
 Bonne esprit d'équipe
 Capacité à prendre des initiatives
 Maîtrise du Pack Office
 Sens relationnel
 Maitrise de l'anglais
 Curieux et créatif
Applicant profile
» Minimum Education Level: Bachelor's Degree

Application Documents
» Curriculum Vitae

NOTE: SCAMMERS ARE MORE AND MORE SMART! Never send money to a stranger during a recruitment process for any reason! And If ever you should, please do so at your OWN RISK!
Receive our offers instantly on: