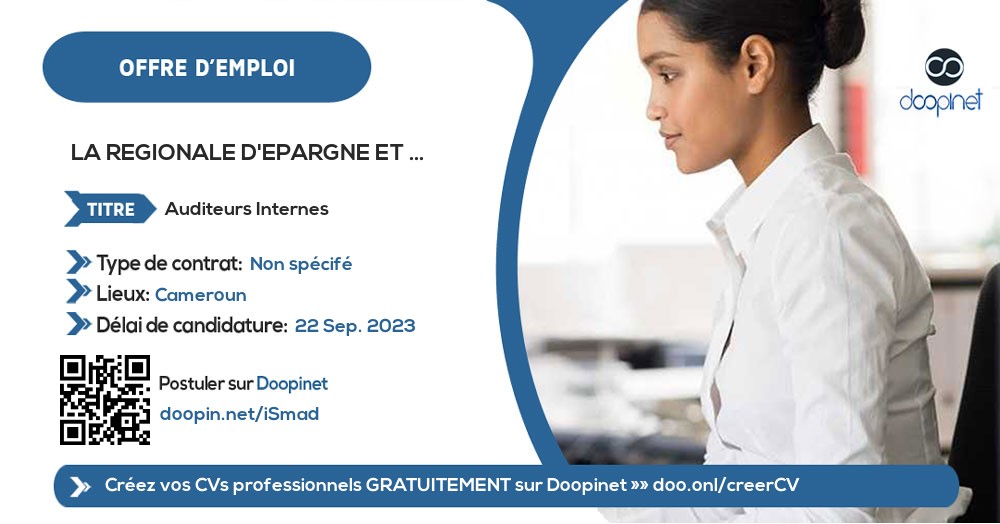 Auditeurs Internes – Cameroun
Lieu, Non spécifié, Cameroon
·
22 Sep. 2023
·
Unspecified
·
Accounting - Management
·
Internal Auditor
Description
LAREGIONALE BANK1ère Institution financière cotée à la BVMAC recherche pour les besoins de ses services desAuditeurs Internes.
Missions / Responsibilities / Activities
Contribuer à l'implémentation de la politique d'audit afin de reduire le risque de manière genérale au sein de la REGIONALE BANK.

Activités
Participer à la revue des processus d'audit et à l'exécution u plan d'audit annuel
Evaluer l'efficacité des contrôles internes mis en œuvre ; Identifier les sources de gaspillage de l'entreprise personnel, biens, fonds, etc.)
Suivre et évaluer l'atteinte des résultats par les unités de roduction
Mener à bien les audits de régularité, de conformité et de anagement;
Mener toute inspection et Investigation pour l'intérêt de a banque
Job Requirements
Avoir un Bac +4 en Audit, Contrôle, management des risques bancaires, Comptabilité, Finance ;
Jouir d'une expérience professionnelle bancaire d'au moins 3 ans dans les domaines de l'Audit Interne ;
Maitriser la réglementation bancaire dans les domaines de l'Audit Interne;
Maitriser la conduite d'une mission d'audit selon les normes
SAVOIR ÊTRE
Être intègre, professionnel et rigoureux
Avoir un sens élevé d'analyse et de synthèse ; Maitriser l'outil Informatique
Applicant profile
» Experience Level: Medium
» Years of work experience: Between 3 years and 5 years
» Minimum Education Level: Master's Degree

Application Documents
» Curriculum Vitae

NOTE: SCAMMERS ARE MORE AND MORE SMART! Never send money to a stranger during a recruitment process for any reason! And If ever you should, please do so at your OWN RISK!
Receive our offers instantly on: