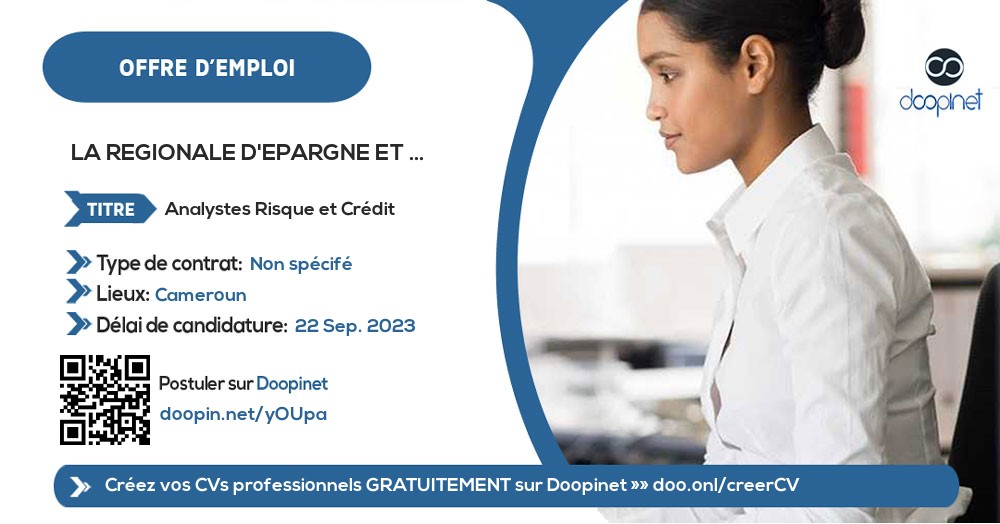 Analystes Risque et Crédit – Cameroun
Lieu, Non spécifié, Cameroon
·
22 Sep. 2023
·
Unspecified
·
Banking - Finance
·
Others
Description
LAREGIONALE BANK1ère Institution financière cotée à laBVMACrecherche pour les besoins de ses services 02Analystes Risque et Crédit.
Missions / Responsibilities / Activities
Exercer les activités d'analyse du risque crédit et divers en vue de réduire les pertes au sein de LA REGIONALE BANK
Gérer et atténuer les risques associés aux prêts et aux engagements de crédit
Implémenter les politiques, les procédures et les critères de souscription de crédit
Mener les analyses nécessaires au maintien du système de notation interne (Analyses qualitatives et quantitatives des contreparties...)
Participer aux travaux d'appréciation du niveau de provisionnement des engagements et porter une appréciation sur la gestion prévisionnelle du coût du risque de la Banque
Job Requirements
Avoir un Bac + 4 en banque, finance, économie, Mathématiques financières
Avoir un Diplôme professionnel de l'Institut Technique de Banque serait un atout en précisant le poste candidaté
SAVOIR ÊTRE
Capacités d'analyse et de synthèse
Esprit critique, objectif et constructif
Disposer d'une aisance à échanger et à argumenter Rigueur
Avoir le sens du risque, de l'organisation et du travail en équipe
Avoir une bonne capacité rédactionnelle
Être bilingue
Maitriser l'outil informatique
Applicant profile
» Minimum Education Level: Master's Degree

Application Documents
» Curriculum Vitae

NOTE: SCAMMERS ARE MORE AND MORE SMART! Never send money to a stranger during a recruitment process for any reason! And If ever you should, please do so at your OWN RISK!
Receive our offers instantly on: