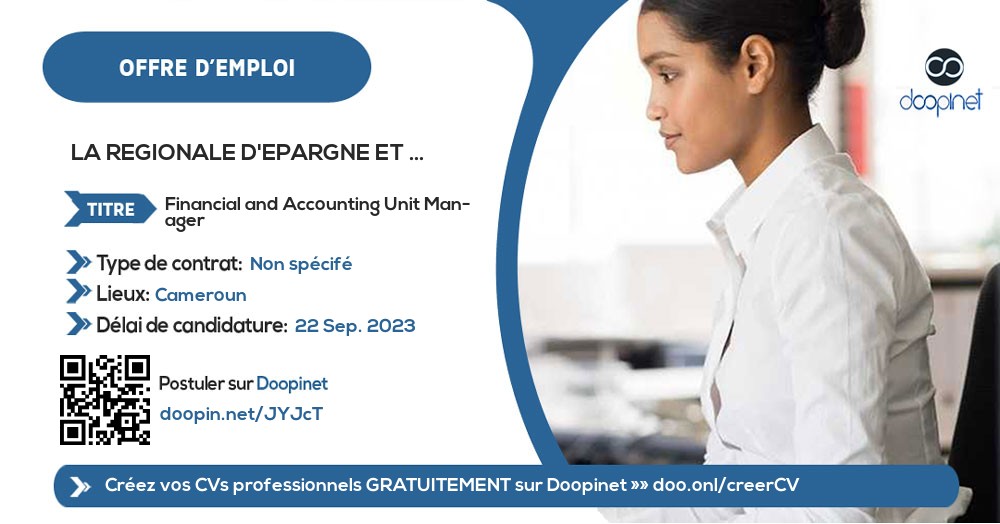 Financial and Accounting Unit Manager – Cameroun
Lieu, Non spécifié, Cameroon
·
22 Sep. 2023
·
Unspecified
·
Accounting - Management
·
Accountant
Description
LAREGIONALE BANK1ère Institution financière cotée à la BVMAC recherche pour les besoins de ses services : 01Financial and Accounting Unit Manager.
Missions / Responsibilities / Activities
Coordonner les activités de la comptabilité et mettre en œuvre au sein de LA REGIONALE BANK les
Processus de Comptabilité Générale ;
Processus de Reporting Règlementaire ;
Processus de Règlement des Fournisseurs;
Processus de Prospective et plans stratégiques globaux;
Processus de Contrôle de Gestion ;
Processus de Contrôle des Balances ;
Processus de Synthèse.
Job Requirements
Avoir un niveau d'étude Bac +4 en comptabilité, finance et contrôle de gestion;
Jouir d'une expérience professionnelle avérée 'au moins 5 ans dans les domaines sus évoqués u sein d'une banque ou dans un cabinet d'expertise comptable auditant les comptes des banques;
Avoir occupé des postes de responsabilités ;
Maîtriser la réglementation dans les domaines de la comptabilité bancaire;
Avoir produit les différents reporting règlementaire
SAVOIR ÊTRE
Être intègre, professionnel et rigoureux
Maitriser l'outil informatique et les logiciels bancaires
Lieu de travail : dans tout le réseau de LA REGIONALE BANK
Applicant profile
» Experience Level: Medium
» Years of work experience: Between 5 years and 8 years
» Minimum Education Level: Master's Degree

Application Documents
» Curriculum Vitae

NOTE: SCAMMERS ARE MORE AND MORE SMART! Never send money to a stranger during a recruitment process for any reason! And If ever you should, please do so at your OWN RISK!
Receive our offers instantly on: