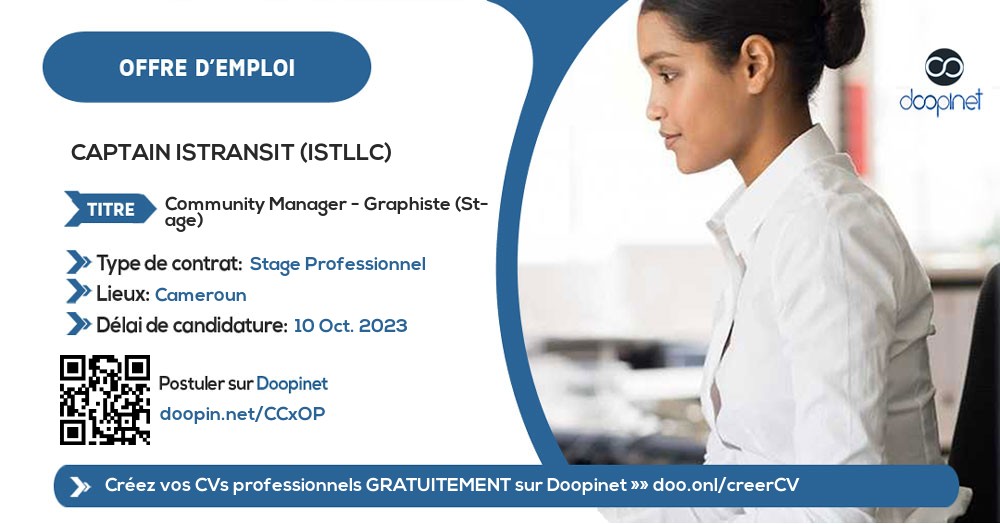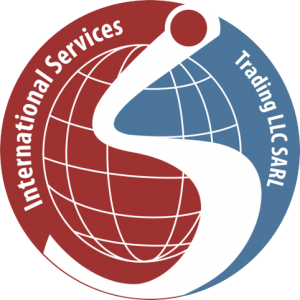 Community Manager - Graphiste (Stage) – Douala
Douala, Littoral, Cameroon
·
10 Oct. 2023
·
Internship
·
Internet - Web
·
Community Manager
Description
ISTLLC (dit Captain isTransit
) est une société à taille humaine qui assure des prestations sur mesure de transit maritime au Cameroun et à l'international. Avec plus de 15 ans d'expérience, nous proposons des services divers et variés (intermédiation en douane, transport, logistique, etc.) pour répondre aux besoins des clients dans le strict respect des délais.

Type de contrat : Stage de 3 mois à temps plein, renouvelable.

Poste basé à Douala Akwa.

Expérience souhaitée : Formation ou stages dans le secteur digital.

Rémunération : 50 000 FCFA + Bonus lié à la performance [10 000 – 25 000] FCFA.

Démarrage : Dès que possible.
Missions / Responsibilities / Activities
Vous établirez des stratégies de communication sur les réseaux sociaux ;

Vous créerez, rédigerez et gérerez les contenus à publier sur nos pages (texte, visuels et vidéos) ;

Vous animerez les communautés et gérerez les interactions ;

Vous adapterez la stratégie et mettrez en place des actions évolutives/correctrices ;

Vous contribuerez à l'alimentation, à la modification et au référencement naturel de notre site web ;

Vous gérerez la relation client via WhatsApp Business, Messenger ;

Vous analyserez la performance de nos médias sociaux grâce à des tableaux de bord et des outils d'analyse.
Et,
Vous réaliserez d'autres missions ponctuelles pour la Direction Générale.

Job Requirements
Niveau d'études : Bac +2 minimum.
Solide culture web et des tendances internet ;

Français et orthographe irréprochables ;

Bonne maîtrise de la suite Microsoft Office ;

Bonne maîtrise des différents réseaux sociaux et des outils de gestion liés (Hootsuite, Meta business, etc.) ;

Bonne maîtrise des outils de design graphique (tels Canva, Adobe Illustrator, Photoshop, InDesign) ;

Bonne maîtrise des logiciels de montage vidéo ;

Idéalement, connaissance du CMS Wordpress ;

Appréhension des outils de gestion de projet ;

Aptitude à travailler rapidement pour respecter les délais.
VOS ATOUTS ET QUALITES
Extrême curiosité ;

Bon sens de l'organisation ;

Excellentes qualités relationnelles et d'adaptation ;

Dynamisme (capable de proposer des idées innovantes et de piloter des projets) ;

Rigueur, assiduité et professionnalisme.
Application Documents
» Lettre de motivation
» Curriculum Vitae

NOTE: SCAMMERS ARE MORE AND MORE SMART! Never send money to a stranger during a recruitment process for any reason! And If ever you should, please do so at your OWN RISK!
Receive our offers instantly on: