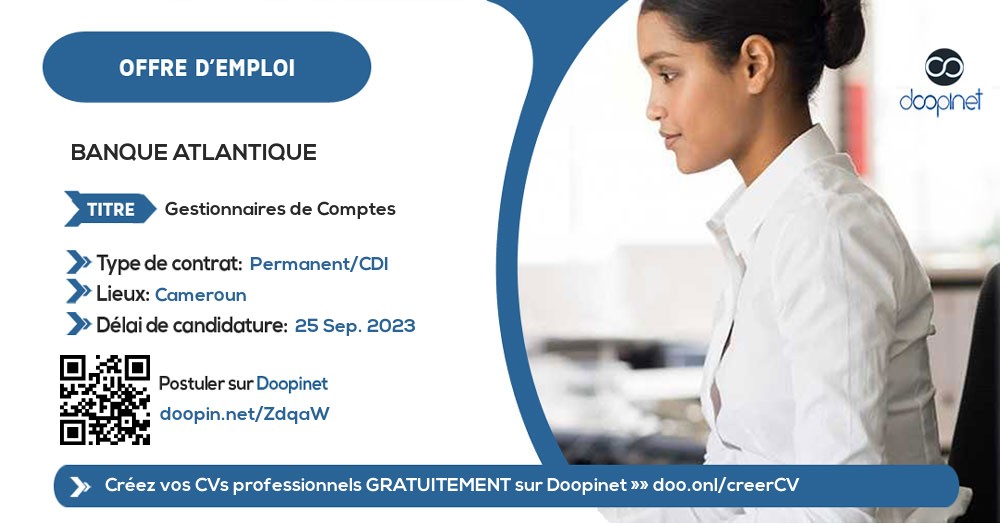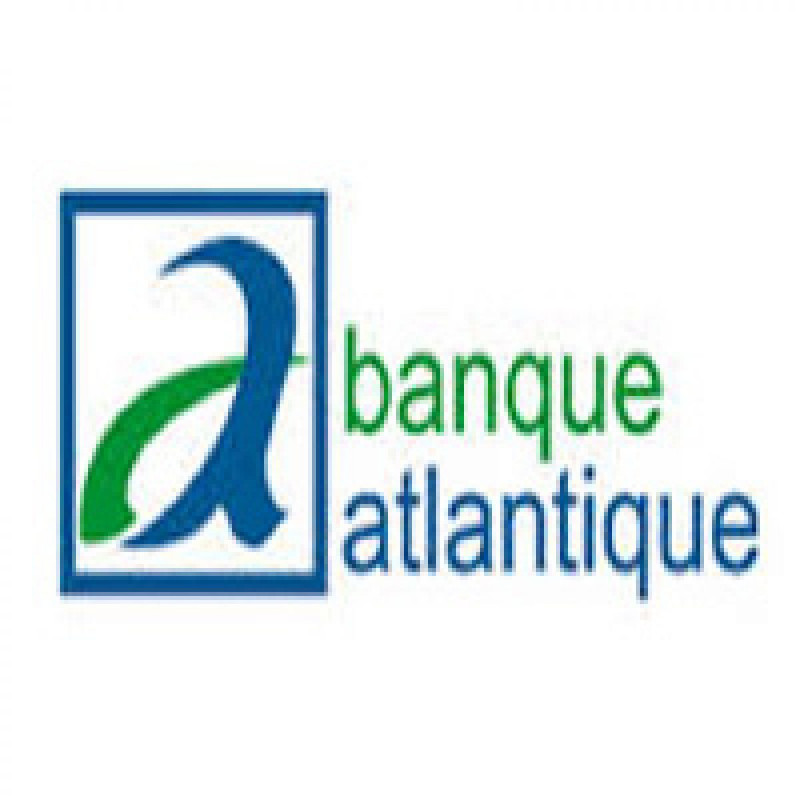 Gestionnaires de Comptes – Douala
Douala, Littoral, Cameroon
·
25 Sep. 2023
·
Permanant
·
Banking - Finance
·
Others
Description
La banque atlantique recrute pour les deux postes ci-dessous : Gestionnaires de Comptes
Intitulé du poste : Gestionnaire de Comptes

Nombre de poste : 02

Direction : Clientèle des Particuliers et du Réseau

Lieu de fonction : Douala

Statut : Cadre

Contrat : CDI

Zone de publication : Interne et externe
Mission principale : Contribuer à la prospection, la fidélisation et le développement d'un portefeuilleclientèle de particuliers
Missions / Responsibilities / Activities
Recherche et développement les ressources
Entreprendre des démarches auprès des prospects, pour en faire des clients ;
Commercialiser les produits de la Banque (produits d'épargne, crédits, opérations sur titres, etc.) auprès des clients ;
Collecter les ressources en provenance des produits d'épargne et de placement ;
Participer au recouvrement des engagements en souffrance de la clientèle ;
Participer à la conception et au développement de nouveaux produits ;
Valoriser et renouveler le portefeuille de clients.
Gestion du portefeuille client
Procéder à l'ouverture de comptes et en assurer le suivi ;
Améliorer l'expérience client en animant et développant les relations commerciales avec la clientèle ;
Proposer des solutions adaptées aux besoins des clients, en analysant leurs ressources, attentes et
projets, dans le respect de la politique commerciale de la banque ;
Instruire les demandes de crédit émanant de la clientèle ;
Procéder au montage des dossiers de crédit après appréciation ;
Signaler les opérations douteuses en contrôlant les différents mouvements dans les comptes de son portefeuille.
Job Requirements
Bac +3 en Banque et Finances, Commerce, Distribution ou toute autre discipline similaire.

Expérience minimum de 5 ans dans la gestion d'un portefeuille clients, dans le secteur bancaire de préférence
Le bilinguisme (français – anglais) serait un atout.
Savoir
Bonnes connaissances des métiers / produits / services de la banque ;
Bonnes connaissances en analyse financière.
Savoir-faire
Techniques de vente et de négociation commerciale ;
Montage des offres de services ;
Montage des dossiers de crédits ;
Méthodes de reporting ;
Outils de bureautique (surtout Excel et PowerPoint) ;
Exploitation de Flexcube.
Savoir-être
Intégrité / probité
Aisance relationnelle / capacité d'écoute
Organisation / méthode / rigueur
Maîtrise de soi
Applicant profile
» Experience Level: Medium
» Years of work experience: Between 5 years and 8 years
» Minimum Education Level: Bachelor's Degree

Application Documents
» Curriculum Vitae

NOTE: SCAMMERS ARE MORE AND MORE SMART! Never send money to a stranger during a recruitment process for any reason! And If ever you should, please do so at your OWN RISK!
Receive our offers instantly on: