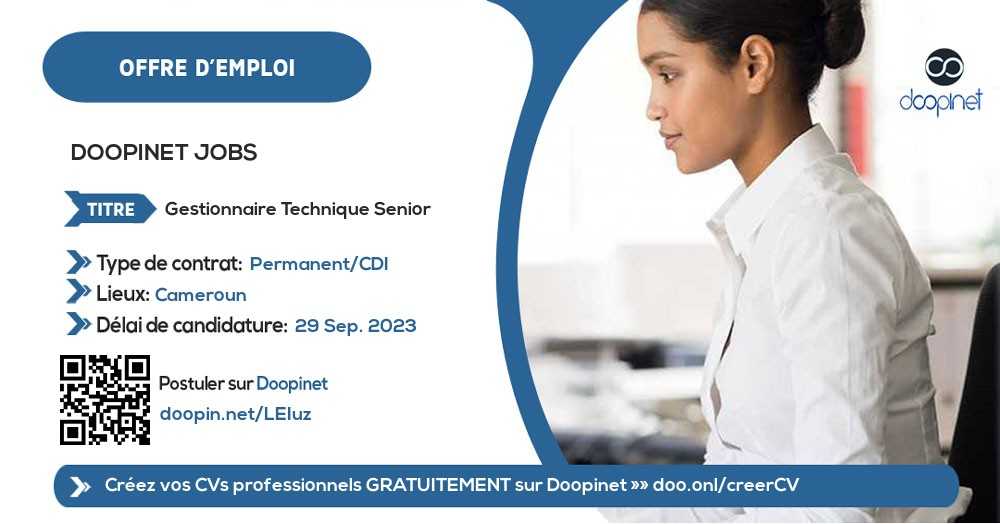 Gestionnaire Technique Senior – Douala
Douala, Littoral, Cameroon
·
29 Sep. 2023
·
Permanant
·
Insurance
·
Others
Description
Chanas AssurancesVierecherche pour les besoins de ses services,un (01)Gestionnaire Technique Seniorrépondant aux spécificités et critères suivants:
Intitulé de la Fonction: Gestionnaire Technique Senior
Localisation: Douala – Cameroun
Nature du contrat: CDI
Rattachement hiérarchique: Direction Technique
Missions / Responsibilities / Activities
MISSIONS :
Etudier les propositions d'Assurances, analyser les risques et émettre les contrats
Assurer une gestion optimale des contrats
Traiter les commissions des apporteurs d'Affaires et les requêtes des clients dans les délais
Assurer la gestion des déclarations de sinistres et des demandes de prestations (rachats, avances, rentes…etc)
Instruire les dossiers sinistres et assurer le suivi de leur règlement ainsi que celui des autres types de prestations
Veiller à la bonne tenue des dossiers
Participer à la réalisation des travaux de synthèse
PRINCIPALES ATTRIBUTIONS :
Réaliser les cotations
Sélection rigoureuse et acceptation des risques
Création des polices dans le logiciel Métier
Emission, édition et montage des contrats
Rédaction de divers avenants relatifs aux contrats
Envoi des propositions de renouvellement, des appels de prime à payer, avis d'échéance, avis d'expiration et avis de situation
Encaissement technique des primes
Bonne tenue des dossiers Production et Prestations
Mettre en règlement les commissions des Apporteurs d'Affaires et faire un suivi de leur paiement
Règlement des participations aux bénéfices aux intermédiaires, honoraires des médecins, factures des autres prestataires (Enquêteurs, avocats…etc)
Apporter des réponses appropriées aux courriers (ordinaires ou électroniques) des clients et partenaires ; Notification des clauses contractuelles, changement des clauses bénéficiaires, traiter les réclamations
Faire un suivi des impayés /arriérés par l'envoi des lettres de mise en demeure, réduction des contrats ou résiliations…etc
Examiner les déclarations de sinistres et les demandes de prestations (rachats, avances, rentes…etc.) introduites au sein de la Direction Technique
Mener l'instruction des sinistres conformément aux dispositions réglementaires édictées par le code CIMA
Emettre des avis sur sinistres à soumettre à la hiérarchie
Procéder au règlement des prestations et préparer les paiements
Suivi du respect des délais de règlements
Job Requirements
BAC + 3 Minimum ; DESS en Assurances
Bonne connaissance des contrats d'Assurances Vie
Expérience d'au moins trois ans dans la gestion des contrats d'Assurance Vie
Maîtrise de l'Outil Informatique
Être bilingue serait un atout
Bonnes aptitudes rédactionnelles et aisance dans la manipulation des données et chiffres
Force d'innovation, de propositions et soucieux du respect des délais
Rigueur, discret et sens de l'organisation
Avoir une forte capacité à travailler sous pression
Capacité à observer la confidentialité dans la gestion des données sensibles
Applicant profile
» Minimum Education Level: Bachelor's Degree

Application Documents
» Lettre de motivation
» Curriculum Vitae

NOTE: SCAMMERS ARE MORE AND MORE SMART! Never send money to a stranger during a recruitment process for any reason! And If ever you should, please do so at your OWN RISK!
Appy Instructions
Le dossier de candidature, constitué d'une lettre de motivation adressée au Directeur Général et d'un CV détaillé avec contacts téléphoniques et adresse e-mail, devra être déposé exclusivement à l'adresse e-mail chanas.vie@chanasassurancesvie.com avec objet « CANDIDATURE AU POSTE DE GESTIONNAIRE TECHNIQUE SENIOR » au plus tard le 29 septembre 2023.
NB : Toute candidature ne respectant pas les conditions prescrites sera purement et simplement disqualifiée. Seuls les candidat(e)s présélectionné(e)s seront contacté(e)s.
Receive our offers instantly on: