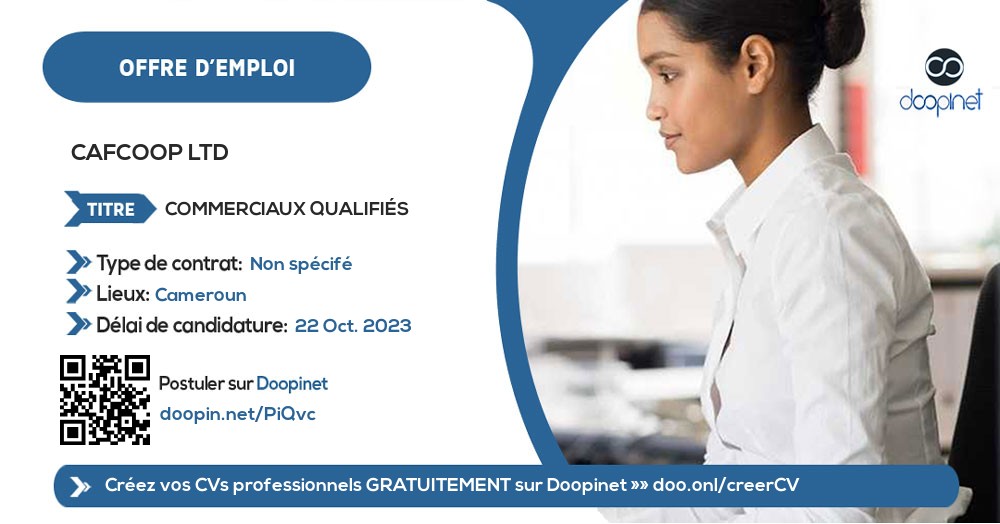 COMMERCIAUX QUALIFIÉS – Cameroun
Lieu, Non spécifié, Cameroon
·
22 Oct. 2023
·
Unspecified
·
Trade - Sale - Distribution
·
Sales Representative
Description
AVIS RECRUTEMENT DES #COMMERCIAUX QUALIFIÉS DANS LES DEPARTEMENTS
La Société Coopérative CAFCOOP Ltd, basée à Yaoundé sis au quartier Efoulan, opérant dans l'importation, la distribution et la commercialisation d'intrants agricoles recrute des Agents Commerciaux qualifiés dans les départements suivants :
SANAGA MARITIME, MOUNGO SUD, MOUNGO NORD, HAUT NKAM, MENOUA, BAMBOUTOS, NOUN, MIFI, NDE, MBAM ET INOUBOU, MBAM ET KIM, KADEY, BOUMBA ET NGOKO, HAUT NYONG, LEKIE, HAUTE SANAGA.
Après une formation d'une durée moyenne d'un mois, les candidats retenus auront la charge d'assurer la vulgarisation des produits CAFCOOP Ltd auprès de sa clientèle dans les zones rurales de leurs département d'affectation.
Missions / Responsibilities / Activities
Constituer, fidéliser et de développer le portefeuille client de l'entreprise dans le département dont vous avez la charge,
Augmenter les chiffres d'affaire de l'entreprise,
Améliorer la connaissance des produits de l'entreprise à travers des campagnes de sensibilisation (vulgarisation, réunion, séminaire etc…) avec les associations de planteurs,
Assurer la transmission des informations recueillies sur le terrain…
Job Requirements
Homme ou femme âgé de 23 à 35 ans,
Résider dans son département d'affectation
Etre bilingue (français et anglais)
Avoir une expérience avérée en marketing
Etre capable de travailler en zone rurale
Avoir une bonne maitrise de l'outil informatique
Une formation en agriculture est un atout.
Applicant profile
» 23 - 35 years old

Application Documents
» Lettre de motivation
» Photocopie CNI
» Diplôme
» Plan de localisation
» Curriculum Vitae

NOTE: SCAMMERS ARE MORE AND MORE SMART! Never send money to a stranger during a recruitment process for any reason! And If ever you should, please do so at your OWN RISK!
Appy Instructions
Curriculum vitae
Lettre de motivation
Photocopie de la carte nationale d'identité
Plan de localisation du domicile
Photocopies des diplômes et des certificats de travail
Les dossiers complets peuvent être transmis via l'adresse électronique :
recrutementcafcoop@yahoo.com ou déposés directement au siège de CAFCOOP Ltd à Efoulan pont, Yaoundé.
Date limite de recevabilité des candidatures le 22 Octobre 2023 à 17h00.
Contacts : 222 31 83 51/682 234 559/683 230 495
Receive our offers instantly on: