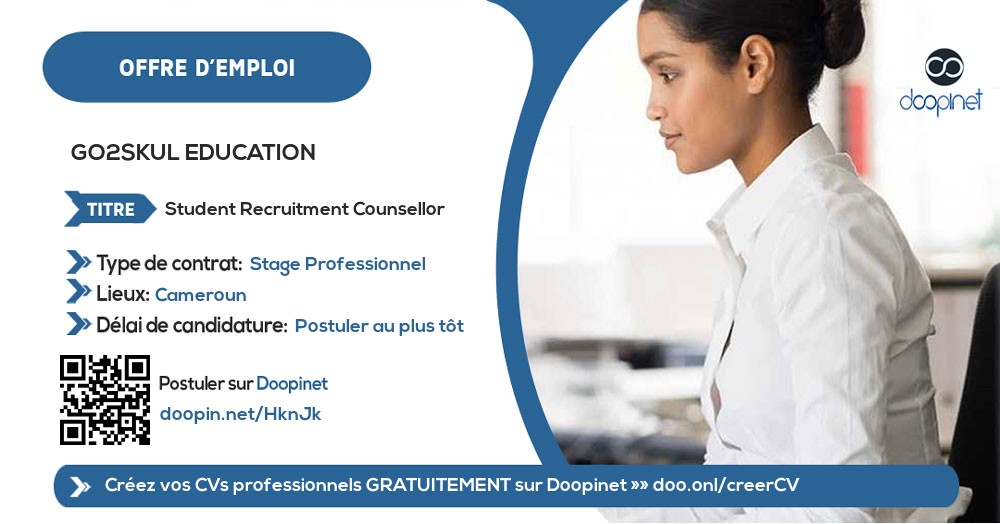 Student Recruitment Counsellor – Yaoundé, Douala
Yaoundé, Douala
·
Apply ASAP
·
Internship
·
Advertising - Marketing
·
Marketing assistant
Description
To support the Recruitment Admission Manager to develop and implement strategies to ensure effective student recruitment from the school's target markets. The post holder will be required to provide a high level of customer service to prospective and admitted students and support the development and implementation of prospective student communication strategies.The post supports the wider objectives of the Marketing, Recruitment and Admissions teams of meeting targets for the quantity, quality, and diversity of students.
Note: Paid internship

Missions / Responsibilities / Activities
Student Recruitment
Support the Student Recruitment & Admission Manager in developing effective student recruitment strategies ensuring alignment with target profiles for each country, and utilising student ambassador, alumni, faculty, and existing exchange relationships

Organise, coordinate, and represent the Go2skul in recruitment events, such as information sessions, coffee chats, webinars, student fairs and College visits. This may involve travel and working outside of regular work hours

Act as the first point of contact for enquiries from prospective students via email, telephone and in person

Make initial assessment on candidates' suitability for their chosen programme in line with universities entry requirements, recording details on Go2skul's CRM (HubSpot), organising consultation schedules, and conducting consultations by email, telephone and in person

Build and maintain relationships with prospective students and offer holders by dealing with all enquiries promptly and professionally, advising applicants on all aspects of the admissions process, their suitability and program details, and aiding the conversion of high-quality applicants

Implement outreach campaigns to offer holders and applicants-in-progress, in a range of channels including phone and email marketing, in line with business objectives

Understand and support Go2skul strategies through recruitment activities
Communications
Provide presentations to prospective students, their advisers, and relevant organisations

Liaise with student groups within the community to identify areas for support or development

Contribute to print and online promotional materials to support recruitment activities, working closely with the Marketing team

Develop an extensive knowledge and understanding of universities and programs, providing timely and accurate advice to prospective students

Support the Student Recruitment & Admission Manager to build relationships with relevant contacts at key colleges and universities

Plan and organise both online and offline informative sessions about study opportunities and study destinations (Webinars, virtual fairs and conferences etc…)

Update Go2skul social media pages.
Reporting and Analysis
Produce weekly, monthly, and annual statistical recruitment reports with regard to student recruitment activities

Monitor and communicate trends within the student recruitment industry to support overall recruitment strategy
General Duties
Continual process improvement to ensure efficient processes that identify and direct activity to the highest calibre students, minimising waste on ineligible candidates

Represent Go2skul at relevant external professional forums and events

Undertake any other duties and responsibilities commensurate with the grade of the post

Any other duties as assigned by Supervisor
Job Requirements
Minimum an HND degree in Business, Arts or equivalent

Minimum of 6 months' work experience in a customer facing role

Sales, Marketing or Communication back ground will be an added advantage

Been bilingual is an added advantage

Keen interest to develop its knowledge in the education industry
Applicant profile
» Experience Level: Entry / Beginner
» Years of work experience: Below 1 year
» Minimum Education Level: Associate's Degree

Application Documents
» Motivation Letter
» Curriculum Vitae

NOTE: SCAMMERS ARE MORE AND MORE SMART! Never send money to a stranger during a recruitment process for any reason! And If ever you should, please do so at your OWN RISK!
Receive our offers instantly on: