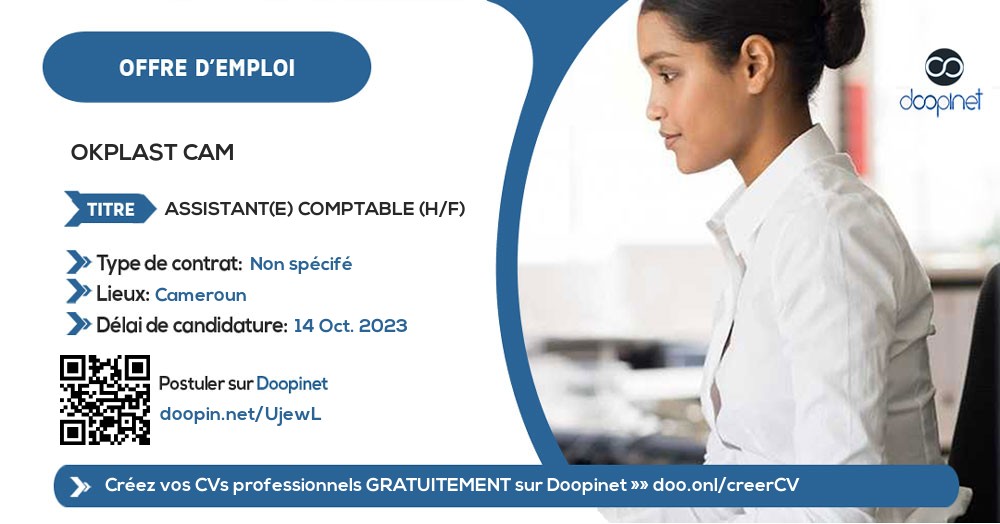 ASSISTANT(E) COMPTABLE (H/F) – Douala
Douala, Littoral, Cameroon
·
14 Oct. 2023
·
Unspecified
·
Accounting - Management
·
Accounting assistant
Description
OK- PLASTCAM est une entreprise industrielle spécialisée dans la plasturgie (emballagesplastiques, Sacs PP Tissés et Tuyauterie). Dans le but de développer ses activités, nousrecherchons UN(E) ASSISTANT(E) COMPTABLE (H/F).
Missions / Responsibilities / Activities
Sous la supervision du Responsable Comptable vous serez chargé de :
Participer à la vérification et tenue des comptes de l´entreprise ;
Etablir les déclarations sociales et fiscales ;
Mettre à jour les livres comptables et autres supports dont la tenue est obligatoire ;
Contrôler la régularité et la sincérité des documents comptables ;
Effectuer tous travaux comptables sous la supervision du Responsable Comptable ;
Vérifier les pièces comptables sur le fond et la forme ;
Rassemblement des pièces comptables, imputation et classement ;
Saisir les opérations comptables quotidiennes ;
Légaliser les pièces relatives aux appels d'offre ;
Comptabiliser les écritures de paie ;
Réaliser des tableaux d'amortissement ;
Traiter les factures de fournisseurs et clients ;
Participer activement aux inventaires ;
Préparer les pièces comptables pour les contrôles légaux ;
Effectuer les relances clients pour les règlements par tous moyens à sa disposition ;
En fonction des nécessités du service et de l'organisation de la direction, ces missions peuvent être amenées à évoluer.
Job Requirements
Compétences/ Exigences/ Qualités :
Bonne maitrise du système et plan comptable OHADA
Avoir une bonne connaissance des normes comptables et fiscales ;
Maitriser les lois fiscales et comptables du Cameroun ;
Maitriser l'usage des logiciels de gestion Sage compta et Microsoft Excel.
Profil du Candidat :
Être âgé minimum de 25 ans ;
Être titulaire d´un BAC+2 en Comptabilité ;
Avoir beaucoup de rigueur et de discipline dans l´organisation du travail ;
Savoir respecter les délais, être rigoureux et précis ;
Savoir faire face à des situations d'urgence.
Applicant profile
» At least 25 years old
» Minimum Education Level: Associate's Degree

Application Documents
» Lettre de motivation
» Curriculum Vitae

NOTE: SCAMMERS ARE MORE AND MORE SMART! Never send money to a stranger during a recruitment process for any reason! And If ever you should, please do so at your OWN RISK!
Receive our offers instantly on: