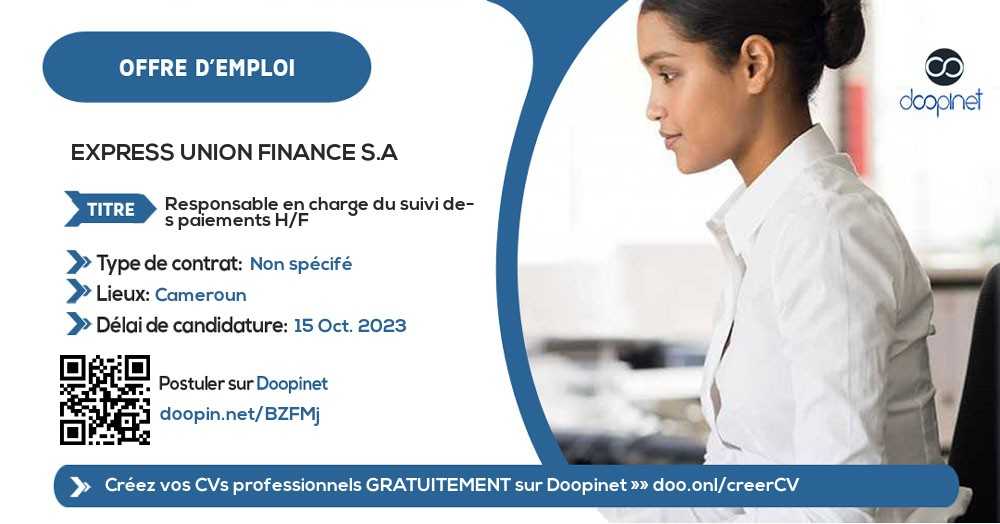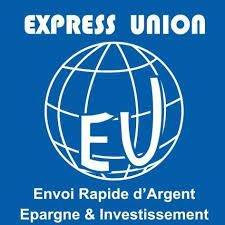 Responsable en charge du suivi des paiements H/F – Cameroun
Lieu, Non spécifié, Cameroon
·
15 Oct. 2023
·
Unspecified
·
Accounting - Management
·
Accountant
Description
AVIS DE RECRUTEMENT
EXPRESS UNION GROUP SA
Nous Recrutons : UN RESPONSABLE DE SUIVI DES ACTIVITES DE PAIEMENTS
Missions / Responsibilities / Activities
Participer à l'accroissement permanent du porte feuille clients et du chiffre d'affaires ;
Participer à l'élaboration de la stratégie du développement des produits rattachés aux paiements
Veiller au respect des dispositions règlementaires encadrant l'activité de paiement ;
Veiller à la production, à l'exploitation des résultats des ventes ;
Produire les rapports de synthèse des activités de paiement assortis des propositions d'amélioration ;
Assurer la liaison avec le Support technique pour le fonctionnement optimal des applications métiers ;
Proposer de nouveaux services/produits, coordonner le développement avec le Support technique, et en veiller le lancement ;
Superviser les activités de paiements dans l'ensemble des filiales du Groupe ;
Promouvoir l'externalisation et le développement du réseau de distribution des produits et services de paiements;
Job Requirements
Etre âgé de 35 ans maximum;
Etre de bonne moralité ;
Etre titulaire d'un BAC+4 en Sciences Economiques et gestion, en Banque, vente ou toute autre spécialité relevant du Suivi de l'activité des paiements (transferts cash et/ou mobiles);


Etre parfaitement bilingue (français et anglais) ;
Avoir au moins 04 années d'expérience dans le domaine des services de paiement ;
Avoir un bon sens relationnel, d'anticipation, une bonne capacité d'adaptation aux changements, de discernement, d'intégrité et de rigueur
Etre capable de travailler sous pression
SAVOIR ÊTRE


Bonnes connaissances économiques ;
Bonne connaissance règlementaire du métier en particulier et du secteur en général ;
Bonne capacité d'analyse et d'interprétation des reportings des transferts classiques, mobiles et ses dérivés.
Bonne connaissance de l'environnement des paiements (organisation et fonctionnement, relation avec la clientèle et organes rattachés, traitement opérationnel, procédures) ;
Bonne maitrise de l'ensemble des moyens de paiements (transferts d'argent cash et mobile, monétique,...) ;
Bonne maitrise de l'outil informatique (world, Excel, PowerPoint, .....) ;
Bonne maitrise des supports digitaux ;
Bonne connaissance de la conception des reporting d'aide à la décision.
Bonne connaissance des produits et services commercialisés
Applicant profile
» 18 - 35 years old
» Experience Level: Medium
» Years of work experience: Between 3 years and 5 years
» Minimum Education Level: Master's Degree

Application Documents
» Lettre de motivation
» Curriculum Vitae

NOTE: SCAMMERS ARE MORE AND MORE SMART! Never send money to a stranger during a recruitment process for any reason! And If ever you should, please do so at your OWN RISK!
Appy Instructions
Pour postuler, envoyez votre dossier: CV et lettre de motivation en précisant en objet «Responsable en charge du suivi des paiements » à l'adresse eug.recrutements@expressunion.net ou dcm-holding@expressunion.net
Date limite de recevabilité des dossiers le 15/10/2023 à 17h30.
Receive our offers instantly on: