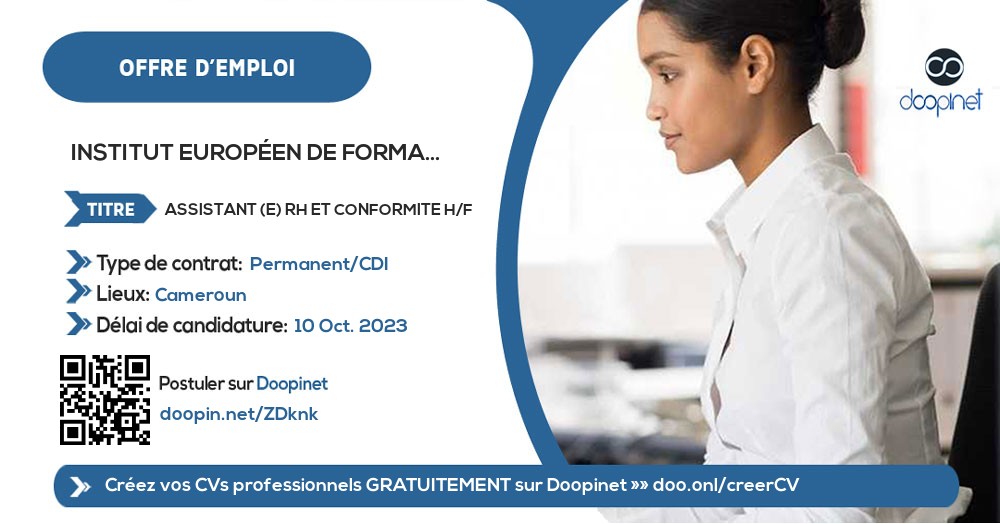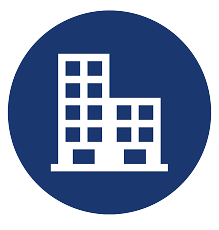 ASSISTANT (E) RH ET CONFORMITE H/F – Yaoundé
Yaoundé, Centre, Cameroon
·
10 Oct. 2023
·
Permanant
·
Human Resource
·
HR Development Manager
Description
Organisme de Formation pour professionnels recrute pour les besoins de ses services les profils suivants : Poste à pourvoir : UN(E) ASSISTANT (E) RH ET CONFORMITE (Homme ou Femme)
Localisation géographique : Yaoundé-Cameroun
Direction de rattachement : Direction Générale
Expérience professionnelle : Minimum 02 ans
Missions / Responsibilities / Activities
DESCRIPTION DU POSTE : Placé(e) sous la supervision du Responsable Administratif et Pédagogique, l'Assistant(e) RH et Conformité devrait s'assurer de la conformité de l'ensemble des opérations menées dans le cadre des activités de l'organisme. Les tâches essentielles à ce poste consisteront à:
Ressources Humaines:
Gérer administrativement les ressources humaines (recrutement, établissement et suivi des contrats de travail, paie, suivi des temps passés et des absences, médecine du travail et accidents du travail) ;
Définir et mettre en œuvre la stratégie et la politique RH de l'entreprise ;
Gérer la masse salariale, et fournir les éléments nécessaires au budget ;
Gérer les compétences et les parcours professionnels ;
Coordonner l'ensemble des activités liées aux projets RH au sein de l'entreprise ;
Recruter et intégrer les nouvelles recrues ;
Assurer le suivi juridique (suivi de la législation en particulier le droit du travail) ;
Préparer et suivre le programme de formation pour l'ensemble du personnel ;
Gérer l'animation sociale de l'entreprise ;
Mettre en place la communication interne ;
Prendre en charge l'animation des Instances Représentatives du Personnel et instances légales ;
Rédiger l'ensemble des documents et procédures RH
Mettre en place et suivre le reporting RH
Définir les indicateurs de performance
Planification et coordination de la procédure d'examen de la conformité :
Évaluer et contrôler systématiquement les processus d'écriture administrative, des offres et suggérer des idées d'amélioration,
Effectuer des contrôles de conformité ponctuels ;
Assister l'équipe technique des projets de formation à la planification des activités ;
Vérifier que les ressources du projet sont correctement répertoriées, inventoriées, marquées et documentées ;
Accompagner les équipes dans la planification et la conduite des formations, certifications et le suivi des classes certifiantes conformément aux dispositions de l'organisme.
Organiser et coordonner les reporting, les outils de suivi et de prévention du dispositif de conformité ;
Élaborer les normes diffusées à l'ensemble des collaborateurs dans le domaine de la conformité/déontologie ;
Anticiper sur toute initiative de nature à garantir la bonne exécution des tâches de conformité ;
Apporter une assistance technique aux collaborateurs directs ;
Assurer une bonne image de l'organisme auprès des partenaires ;
Démontrer un engagement professionnel dans l'ensemble des tâches liées à la fonction ;
Exécuter toutes autres tâches liées aux activités assignées par la hiérarchie.
COMPETENCES SUPPLEMENTAIRES REQUISES:
Bonnes aptitudes en planification et organisation du travail
Bonnes aptitudes en relations publiques
Intégrité, engagement et aptitude à travailler en harmonie avec des personnes d'origines et de cultures diverses
Compétences pour la gestion des relations humaines, la communication et le développement de vos collaborateurs
Capacité de réflexion analytique et stratégique, et une capacité de gestion axée sur les résultats
Esprit structuré et une bonne capacité d'expression orale et écrite
Disposition à travailler sous pression et à se remettre en cause
Job Requirements
QUALIFICATIONS MINIMUM REQUISES:
Diplôme : Bac +3 en Ressources Humaines, Sciences Juridiques, Gestion Administrative ou lettres modernes
Excellentes aptitudes à la présentation et à la communication verbale et écrite
Familiarité avec les politiques et procédures administratives
Autogestion démontrée (motivation, gestion de la pression, adaptabilité) et capacité à projeter une image professionnelle et cohérente de confiance, d'intégrité et de compétence
Maîtrise de la langue française orale et écrite et connaissance professionnelle de l'anglais (un atout)
La maîtrise de l'outil informatique est un excellent atout.
Applicant profile
» Minimum Education Level: Bachelor's Degree

Application Documents
» Photo entière
» Curriculum Vitae

NOTE: SCAMMERS ARE MORE AND MORE SMART! Never send money to a stranger during a recruitment process for any reason! And If ever you should, please do so at your OWN RISK!
Receive our offers instantly on: