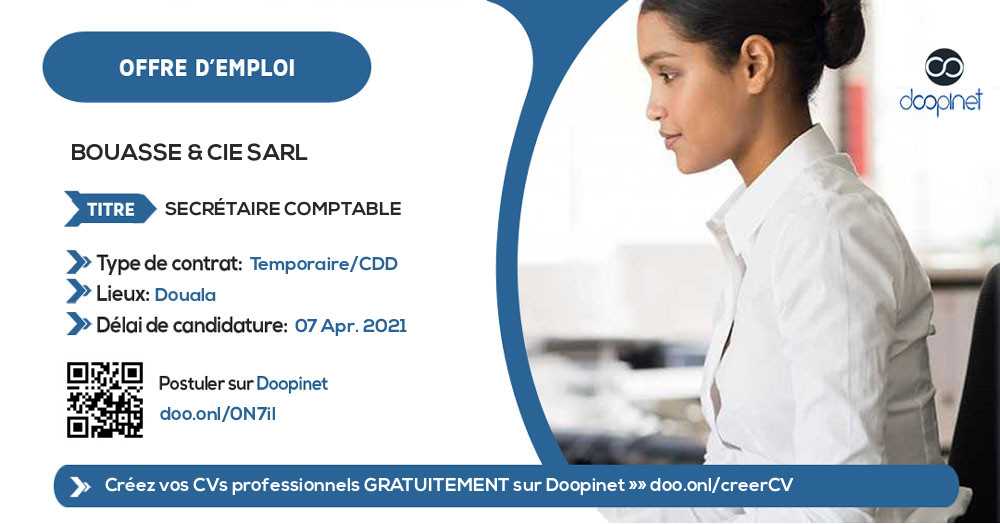 SECRÉTAIRE COMPTABLE – Douala
Douala, Littoral, Cameroon
·
07 Apr. 2021
·
Temporary
·
Accounting - Management
·
Accounting Secretary
Description
Réf: DG/RH/0153/2021/03
Concerne: Appel à Candidature
OBJET:RECRUTEMENT:
Dans le cadre du renforcement de ses équipes, la Société BOUASSE et COMPAGNIE recrute une Secrétaire Comptable.
Missions / Responsibilities / Activities
Accueil des clients ;
Rapports et compte rendu des réunions ;
Organisation des réunions ;
Tenue de caisse et des pièces de caisse ;
Suivi des fournisseurs ;
Facturation et règlement des factures ;
Job Requirements
Vous justifiez au minimum d'un BTS en comptabilité ou d'une formation en secrétariat comptable ;
Vous justifiez d'au moins 06 mois d'expérience à un poste similaire ;
Vous maîtrisez l'outil informatique et les logiciels de comptabilité ;
Vous avez le sens de l'organisation ;
Vous êtes accueillante, respectueuse, polie et ponctuelle ;
Vous avez la capacité à travailler sous pression.
Applicant profile
» Experience Level: Entry / Beginner
» Years of work experience: Below 1 year
» Minimum Education Level: Associate's Degree

Application Documents
» Demande d'emploi
» Curriculum Vitae
» Copie CNI
» Copie dernier diplôme

NOTE: SCAMMERS ARE MORE AND MORE SMART! Never send money to a stranger during a recruitment process for any reason! And If ever you should, please do so at your OWN RISK!
Appy Instructions
COMPOSITION DU DOSSIER :
Demande adressée au Directeur Général de la société BOUASSE et COMPAGNIE Sarl ;
Curriculum vitae mis à jour avec références ;
Copie CNI ;
Copie dernier diplôme ;
Les dossiers de candidatures seront reçus au plus tard le 07 Avril 2021 à 15h00 à l'adresse ci-dessous:
Sté BOUASSE & Cie Sarl – B.P. 12 302 Douala (Bonaberi / Ndobo)
Tel : (237) 233 39 08 79 / 677 888 202 / 699 284 028
Email : recrutement2021.bouasse@gmail.com - Site web: ww.bouasse-compagnie.com
Receive our offers instantly on: