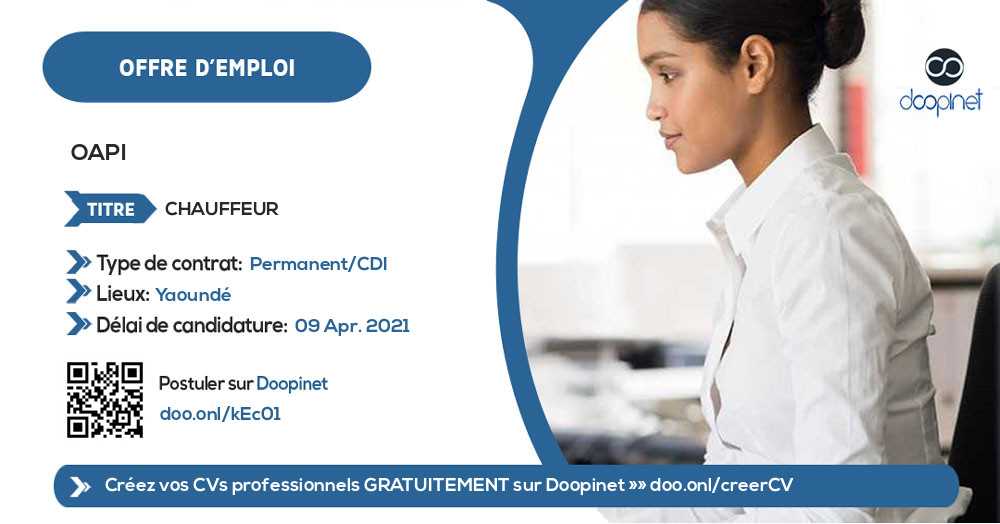 CHAUFFEUR – Yaoundé
Yaoundé, Centre, Cameroon
·
09 Apr. 2021
·
Permanant
·
Transport - Logistic
·
Driver
Description
AVIS DE RECRUTEMENT
L'Organisation Africaine de la Propriété Intellectuelle recherche des candidatures pour le recrutement d'un chauffeur.


INFORMATIONS GENERALES
TITRE DE POSTE :Chauffeur au Cabinet du Directeur Général
CATEGORIE :SG2 – 1er Echelon
NIVEAU (GRADE) :Agent d'appui II
DUREE DE L'ENGAGEMENT :Indéterminée après une période d'essai de trois mois
UNITE ADMINISTRATIVE :Cabinet du Directeur Général
DATE D'ENTREE EN SERVICE :Deux semaines après notification du recrutement
LIEU D'AFFECTATION: Yaoundé (République du Cameroun)
LANGUE DE TRAVAIL: Français
REMUNERATION :Conformément aux textes en vigueur à l'OAPI.
Missions / Responsibilities / Activities
Sous la responsabilité du Directeur de Cabinet du Directeur Général, le titulaire du poste est chargé principalement de :
Apporter le soutien logistique aux différentes entités de l'Organisation.
Job Requirements
CONDITIONS D'ELIGIBILITE
Etre ressortissant d'un des pays membres de l'OAPI et résider au Cameroun.
être âgé de 18 ans au moins et 55 ans au plus à la date de clôture du dépôt des candidatures ;
jouir de ses droits civiques et être de bonne moralité.
QUALIFICATIONS REQUISES :
Etre titulaire d'un Certificat d'Etudes Primaire Elémentaire (CEPE) ;
Être titulaire d'un permis de conduire de catégorie B ou C ;
Maîtriser la conduite défensive des véhicules de la catégorie B ;
Justifier d'au moins trois années d'expérience professionnelle.
Conduire le personnel ;
Effectuer les courses des services ;
Expédier les colis et courriers divers ;
Effectuer l'entretien du véhicule ;
Assurer le suivi administratif du véhicule ;
Participer aux inventaires et réceptions des matériels ;
Applicant profile
» 18 - 55 years old
» Experience Level: Medium
» Years of work experience: Between 3 years and 5 years
» Minimum Education Level: CEPE, CEP

Application Documents
» Lettre de Motivation
» Curriculum Vitae détaillé
» Extrait d'acte de naissance
» Copie certifiée conforme des diplômes
» Extrait de casier judiciaire
» Attestation régulièrement établie des emplois publics ou privés
» Certificat de visite médicale

NOTE: SCAMMERS ARE MORE AND MORE SMART! Never send money to a stranger during a recruitment process for any reason! And If ever you should, please do so at your OWN RISK!
Appy Instructions
COMPOSITION DU DOSSIER DE CANDIDATURE
Tout candidat à ce poste doit constituer un dossier comportant les pièces ci-après :
une lettre de motivation ;
un extrait d'acte de naissance ou une copie certifiée conforme de l'acte de naissance ou du jugement supplétif en tenant lieu ;
un curriculum vitae détaillé ;
une copie certifiée conforme des diplômes, titres, attestations de qualification ;
un extrait de casier judiciaire datant de moins de trois mois ;
une attestation régulièrement établie des emplois publics ou privés précédemment occupés et indiquant leur durée ;
un certificat de visite médicale, datant de moins de trois mois, attestant que le candidat remplit les conditions d'aptitudes physiques et mentales.
ELEMENTS DU DOSSIER D'ENGAGEMENT
Le candidat retenu devra, préalablement à la prise de service :
Présenter les originaux de ses diplômes, titres et pièces d'état civil ;
fournir une attestation sur l'honneur de libre engagement s'il n'est pas fonctionnaire ou un acte de détachement s'il est fonctionnaire.
ADRESSE A LAQUELLE LES DOSSIERS DOIVENT ETRE ENVOYES
Les dossiers de candidature complets doivent être déposés, soit sous plis fermés avec la mention de l'emploi sollicité à l'OAPI ou envoyés à l'adresse ci-après, le cachet de la poste faisant foi, soit par voie électronique à l'adresse oapi@oapi.int.
Monsieur le Directeur Général de l'OAPI
BP 887 YAOUNDE (République du Cameroun)
Tél (237) 222 20 57 00
Fax (237) 222 20 57 27
Receive our offers instantly on: