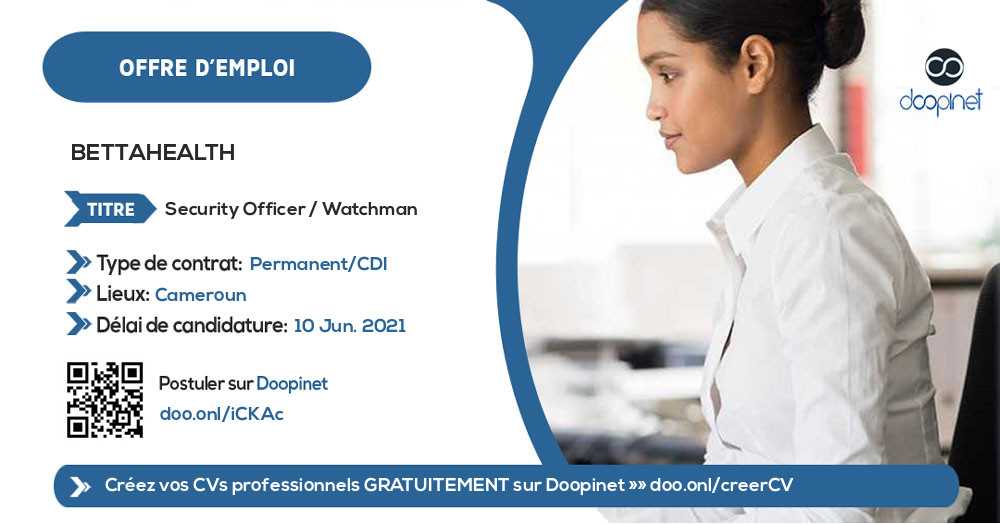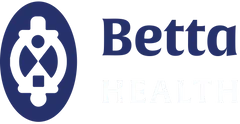 Security Officer / Watchman – Yaoundé
Yaoundé, Centre, Cameroon
·
10 Jun. 2021
·
Permanent / CDI
·
Industrie
·
Security agent
Description
ABOUT BETTAHEALTH
BettaHealth Cameroon is a Clinic that offers innovative access to healthcare in the Ambulatory, HomeCare and Telemedicine sectors.
Our objectives are to improve quality of life, reduce hospitalizations, reduce wait time and save costs. We provide qualified and well-trained Doctors and Nurses to offer health care services in the comfort of the homes of our patients, as well as home support service for older people, non-medical custodial care besides home care.
We also provide various ambulatory clinical care Services at our Health Centre and Emergency Medicine. Visit our website for more:
www.bettahealth.org
.
Related with our activities we are looking for a SECURITY OFFICER / WATCHMAN

Title: Security Officer / Watchman
Reports to: Administrative Finance Officer
Place of Work: Yaounde – Nkozoa
Number of Positions: Two (2)
TYPE OF CONTRACT

Permanent contract
Competitive salary proposals
Missions / Responsabilités / Activités
Under the supervision of the Administrative & Finance Officer, the Security Officer / Watchman will have to carry out surveillance and guarding activities in the facility, according to BettaHealth's protocols and security rules, in order to ensure the safety and security of all patients, staff and premises. And among other things, work as a Janitor to ensure regular routine cleaning of the office including the medical units.

TASKS AND RESPONSIBILITIES :
GUARDING
Be available, courteous and polite to patients/Clients
Surveying the Facility premise's access and guides people to reception within authorized hours
Contacting the administration team for authorizing people access
Watching facility premises and property's perimeter fence through regular patrols.
Remaining on duty until other watchman comes to do a handover, never leaving the post unattended
Organizing traffic of vehicles within the premises and directs them in and out
Checking that the doors and windows are locked and lights are off when people leave premises
Checking that security lights are working properly and informing administration of any possible problems
Keeping area within the facility premises clean and tidy (eg. empty dustbins, sweep paths, etc.) and performs general maintenance activities of the garden (eg. cut grass, maintain flower beds, prune trees if necessary, etc.)
Maintaining watchmen's torch and other lighting tools, returning used batteries and keeping the necessary supply of spare batteries
Supervising diesel/petrol tank levels and providing spare can(s) of fuel. Ensuring the correct functioning of generator and water pumps (starting, switching off, record sheet of operating hours and maintenance) as well as the correct use of extinguishers (being aware of their location)
Informing the administration of arrival of any materials before unloading and helping the facility staff carry heavy items, if necessary
JANITOR
Sweep, mop, and/or vacuum rugs and floors in all rooms on a daily basis
Empty trash receptacles on a daily basis. Remove all trash and clutter from hallways and common areas as needed. Properly dispose of papers and waste as required, shredding official documents
With guidance from the administration, track cleaning inventory and notifies the administration when supplies are needed in a timely manner to ensure that stocks do not run out
Immediately request repairs and report to the administration broken equipment, loose doorknobs, clogged toilets, replacement bulbs and other issues
CONTEXT SPECIFIC ACCOUNTABILITIES
Be In charge of the BettaHealth facility security in Nkozoa – Yaounde
No armed persons are allowed in the facility
In charge of the facility access (people and cargo) in and out from the facility, registering in the visitor's book the name of the visitor and the number of his identity card if is not a BettaHealth staff member
Staff on weekends/out from working hours to the facility, watchman on duty calls/notifies the respective supervisor of the staff and let him/her to come inside, details of the staff must be recorded on the visitor registry book
Responsible of the outside facility illumination. Night watchman is in charge to switch On and Off of the lights outside the facility. Should observe all the security lights and report immediately to the incoming watchmen (as well note it in the handover book) if there are any faulty ones.
Watchmen are equipped with torch and a mobile phone. He is responsible to call the administration if any security issues
Night watchman is in charge to ensure the kitchen and main entrance doors are close by the last person leaving the gound-floor premises
Watchman is responsible to call the administration if any security problem arises in the facility or nearby
At each change of shift, the outgoing and incoming watchmen should make a walk of handover within the premises (go through the checklist of existing equipment in the base and verify of the security of the compound). In the event of any irregularities, the watchmen must record it in the watchmen logbook. If it is an urgent matter, immediately inform the administration
Compétences / Exigences / Qualités
Basic First School Leaving Certificate, GCE Ordinary level preferable; Capacity to read and write
Essential working experience as watchman/guard of at least one year
Fluency in French and English
Commitment to BettaHealth's Principles; Behavioural Flexibility; Stress Management
Teamwork and Cooperation; Service Orientation
Profil du candidat
» Niveau d'expérience: Junior / Débutant
» Années d'expérience: Moins d'un an
» Niveau Académique Minimum: Baccalauréat

Documents de candidature
» Copies of academic qualifications
» Curriculum Vitae

Instructions de candidature
An Application letter, addressed to the Administrative & Finance Officer of BettaHealth Cameroon
A CV; Names and addresses of 3 Reference/Guarantor persons
Copies of academic qualifications
The file bearing the title of the position should be deposited at the following address: BettaHealth Cameroon
Entrée Ministre – Nkozoa, Yaounde
Phone: (237) 655 455 631
Or send via email to jobs@bettahealth.org mentioning on the subject: SECURITY OFFICER / WATCHMAN
NB: No applications will be accepted after the deadline. Only the selected candidates will be subsequently invited to take an interview.
Recevez instantanément nos offres en cliquant ci-dessous:
Évitez les ARNAQUEURS! N'envoyez jamais de l'argent à un inconnu au cours d'un recrutement.