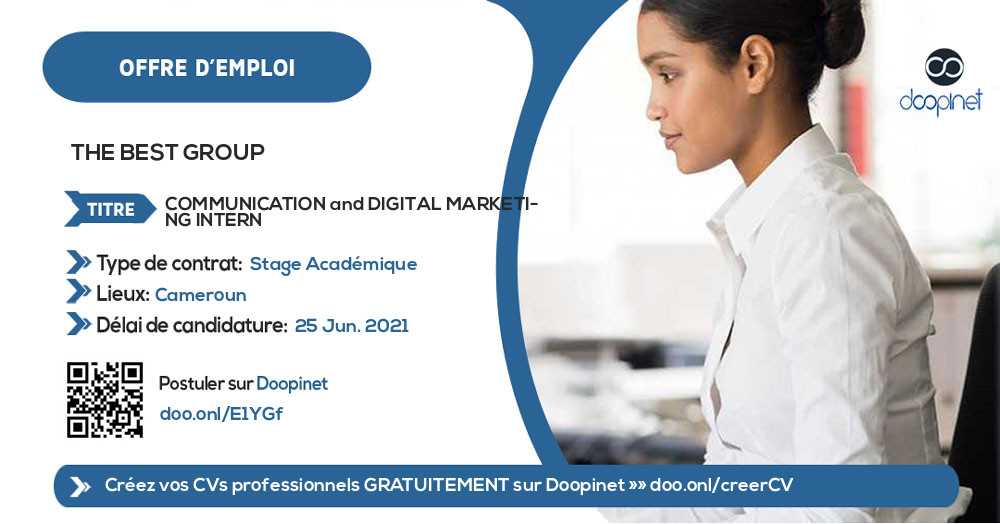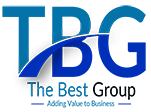 COMMUNICATION and DIGITAL MARKETING INTERN – Douala
Douala, Littoral, Cameroon
·
25 Jun. 2021
·
Stage Académique
·
Communication
·
Assistant de communication
Description
INTERNSHIP ADVERT :COMMUNICATION DIGITAL MARKETING INTERN (REMOTE)
Characteristics of the internship offer
Location: Remote internship, via internet from home
Duration: 2 months (renewable once onsite)
Internship allowance / month: 25 000 FCFA
Working hours: 7h30-12h 14h-18h
Internet connection: Provided by TBG
Deadline for application: 25/06/2021 at 23:59
Remote interview: 26/06/2021
Starting date: 28/06/2021
After confirmation: Long-term arrangement contract
THE BEST GROUP (TBG) is a consulting company in IT Engineering, marketing and communication with experience and proven expertise in various areas of intervention.
In order to strengthen its team, the company is looking for two (02) fresh graduates / 1-year work experience in digital fields for an Internship in Communication Digital Marketing. Autonomous, talented and multidisciplinary for a period of two (02) months remote internship renewable once onsite.
Missions / Responsabilités / Activités
You have some knowledge about Facebook, Instagram and Twitter ads;
You have genuine interest in online marketing and customer service;
You are a strategic thinker and yet goal oriented;
You have an international spirit and you can communicate fluently in English and/or - French; You are a good team player actively contributes to the team's performances;
You can produce multimedia content for different websites and social media platforms;
You can organize and lead online workshops on different products;
You can design visuals for social media posts; You can ensure the presence of the brands on social networks (Facebook, LinkedIn, etc..);
You can participate in any other activity deemed necessary by the company;
You can prepare reports on monthly activities.
Compétences / Exigences / Qualités
Minimum qualifications
HND, HPD, BTS, DEUG, DSEP... Marketing/Communication/Journalism/ public relations/Software engineering…)
What we expect from you?
You have amazing interpersonal skills and an enthusiastic, hands-on approach;
You have awesome verbal and written communication and negotiation skills both;
You have strong interest in learning and sharing knowledge with others and you are excited in advancements in developments tools and techniques;
You work well with other team members and colleagues and enjoy giving and receiving constructive feedback that helps you grow;
You are confident working in a fast and agile environment;
You have PC and Smart phone to work.
Added advantage
Strong commercial skills;
Good interpersonal and writing skills;
Good mastery of the Enlgish language (or bilingual);
Mastery of software tools (Word, Excel, Powerpoint, Outlook and Internet) is mandatory;
Attracting leads with SMM tools, content and SEO;
Willingness to create and participate in strategic planning.
Profil du candidat
» Niveau Académique Minimum: Bac+2 (BTS / HND,...)

Documents de candidature
» Up to date CV (with photo)
» Copy of identity card
» Cover letter indicating why you're a match for the position

Instructions de candidature
Recevez instantanément nos offres en cliquant ci-dessous:
Évitez les ARNAQUEURS! N'envoyez jamais de l'argent à un inconnu au cours d'un recrutement.