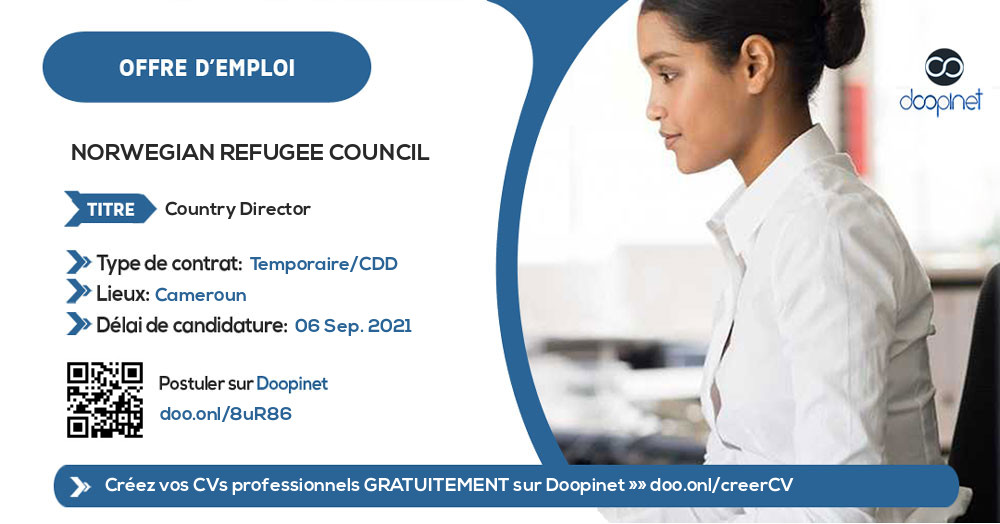 Country Director – Yaoundé
Yaoundé, Centre, Cameroon
·
06 Sep. 2021
·
Temporaire / CDD
·
Gestion de Projets
·
Directeur d'études et de projets
Description
Cameroon is affected by three complex humanitarian situations: displacement caused by violence in the Lake Chad Basin and in the North-West and South-West regions and the presence of refugees from the Central African Republic (CAR) in the eastern regions. Violence in the Far North region has caused a steady rise of displacement since 2014 with over 322,000 IDPs and 115,000 Nigerian refugees as of 2020. According to the UN, the socio-political crisis in the North-West and South-West regions has displaced over 1.1 million people and there are more than 300,000 refugees from CAR. The UN estimated that over 4.4 million people require assistance in 2021.
NRC began operations in Cameroon in 2017. From its field offices in Bamenda, Batouri, Buea, Kousseri, and Maroua, NRC delivers protection, education, legal assistance, shelter, livelihoods and food security, and WASH programming.In 2020, NRC's programmes provided assistance to over 340,000 people in need. The Country Director will lead a dedicated team of over 160 colleagues to develop, grow and implement quality humanitarian programmes and advocacy.

What we offer
An opportunity to match your career to a compelling cause
A chance to meet and work with people who are the best in their fields
24 months contract with possibility of extension
Family duty station in Yaoundewith35% internal travel
Grade 12in NRC's grade structure
Starting Date: January 2022
Missions / Responsabilités / Activités
The purpose of the Country Director position is the overall leadership and responsibility for the country operation.
The Country Director is overall responsible for:
National representation and coordination
Development and execution of country strategy
All in-country activities, personnel and the Country Management Group (CMG)
Safety and security of all staff
Country level advocacy
Resource allocation and mobilization
Cost efficiency and quality, including implementation of control mechanisms
Ensuring adequate country structures and systems are in place
Learning, training and development of all staff, including a strategy for national staff development
Compliance and adherence to NRC policies, guidance and procedures
Specific responsibilities
Analyse the political and humanitarian context and adapt the NRC programme ensuring relevance and strategic growth within the evolving context in Cameroon
Motivate and coach staff in order to create effective teams, with particular attention to ensuring an efficient and empowered Country Management Group
Promote accountability, the highest standard of ethics, including safeguarding, and adherence to the Humanitarian Principles
Responsible for all NRC advocacy efforts in Cameroon and ensure that contributions are made to NRC regional and global advocacy efforts
Develop and enforce policies to promote and maintain diverse staff at all levels
Provide vision, promote ideas, gain agreement and act as a role model
Serve as a proactive member the Extended Regional Management Group, promote collaboration with other Country Offices and the Regional office and contribute to the development of the Central and West Africa Region as a whole
Actively engage with the Nigeria Country Office as part of the Lake Chad Basin crisis as well as the CAR Country Office to ensure holistic advocacy and programming
Compétences / Exigences / Qualités
Minimum 5 years experience from working as a Senior Manager/Country Director in humanitarian/recovery context
Experience from working in complex and volatile contexts
Documented/proven results related to the position's responsibilities
Knowledge about own leadership skills/profile
Fluency in French and English, both written and verbal
Valid driver's license
Context/ Specific skills, knowledge and experience:
Strategic thinking
Handling insecure environments
Empowering and building trust
Influencing
Knowledge of the context in the Central Sahel
Experience from advocacy work
Experience with change management processes
Profil du candidat
» Niveau d'expérience: Directeur
» Années d'expérience: Entre 5 ans et 8 ans

Documents de candidature
» Curriculum Vitae

NOTE: LES ARNAQUEURS SONT DE PLUS EN PLUS ASTUCIEUX! N'envoyez jamais de l'argent à un inconnu au cours d'un recrutement quelle que soit la raison! Et Si vous devriez le faire, que ce soit à vos PROPRES RISQUES!
Recevez instantanément nos offres en cliquant ci-dessous: