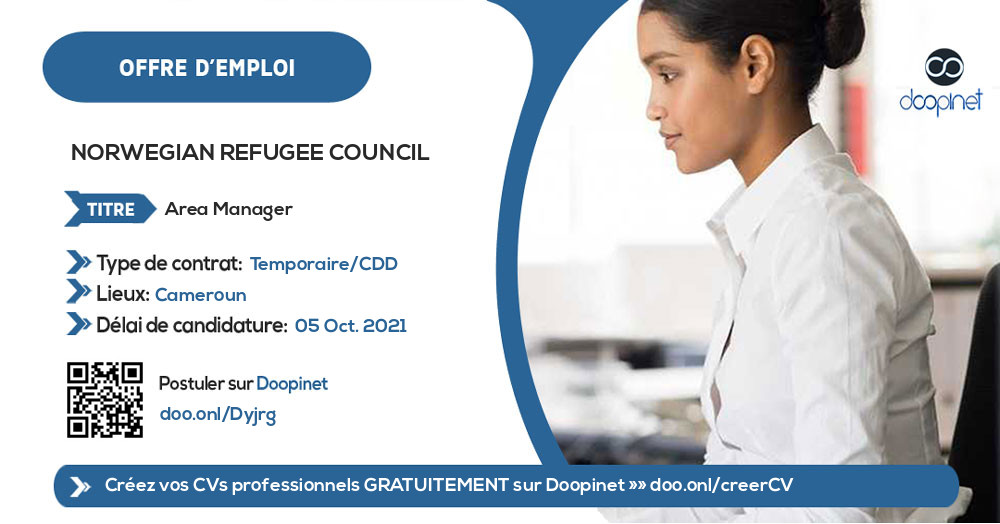 Area Manager – Maroua
Maroua, Extreme North (Extreme-Nord), Cameroon
·
05 Oct. 2021
·
Temporaire / CDD
·
Humanitaire
·
Chef de mission humanitaire
Description
Cameroon is affected by three parallel, complex humanitarian crises: in addition, the secondary impacts of the COVID-19 pandemic have further exacerbated the needs in country. Incursions by Armed Organized Groups (AOGs) in the Lack Chad Basin have resulted into 115,000 Nigerians seeking refuge in Cameroon and a further 322,000 Cameroonians as IDPs in urgent need of humanitarian assistance. Cameroon's Eastern regions are still home to nearly 300,000 refugees from the Central African Republic, and, the third crisis is the on-going violence in the two English-speaking regions of North-west and South-west where nearly one million Cameroonians have been displaced due to this crisis.
NRC has been operational in Cameroon since 2017, and currently has five field offices; Maroua and Kousseri in the Far North; Buea in the South-west; Bamenda in the North-west and Batouri in the East. NRC maintains a coordination office in Yaounde.
Missions / Responsabilités / Activités
The Area Manager will maintain the highest degree of representation at the field level, ensure high quality and cost effective programme/project implementation in NRC's areas of operation in the Far North region of Cameroon.
Generic responsibilities:
Line management for senior project staff and support functions in the area.
Member of the Country Management Group (CMG).
Compliance with and adherence to NRC policies, guidance and procedures.
Provide area specific input on Core Competence strategies, Country Strategy and Plan of Action.
Organize grants opening, review and closure meetings at area level.
Implementation of projects (including master support budget and coordinating input for donor proposals and reports) in the area, in compliance with contractual commitments (i.e. quality, synergies, timeliness, use of resources).
Contribute to planning and implementation of needs assessments including of protection risks and needs, develop emergency response and implement response plans.
Ensure optimal use of resources within the allocated project budgets and CC strategies.
Represent NRC and networking at area office level.
Ensure overall security and safety of staff in the area, including completing security risk assessments.
Specific responsibilities:
Overall responsibility of managing all NRC activities in the Area office and sub-office
Responsible for area specific master support budget (shared resource allocation),
Accountable for maintaining financial overview and ensure financial reporting is conducted (support & project)
Responsible for access negotiation for both NRC staff and local partner staff to ensure timely aid delivery
Spearhead the strategy design at the field level, implementation and monitoring of the same.
Oversee assessments for new areas of operation, outline possible areas of intervention, and develop program strategy for implementation
Support the development of concept notes, project proposals, and budget development for scale-up of NRC activities in the Area
In conjunction with Country Office, liaise with donors on new funding and operational areas of programming
Liaise regularly with local authorities, donors and humanitarian actors in the area of operations;
Provide regular inputs into advocacy initiatives
Ensure capacity building initiatives are in place and that staff receive the necessary training
Ensure work and development plans are completed by all staff members in the area of operations and performance feedback sessions are conducted on a minimum of quarterly basis
Ensure NRC's data collection systems are in place and information is properly stored and analyze
Compétences / Exigences / Qualités
Generic professional competencies for this position:
Minimum 3 years of experience from working as a Senior Manager in a humanitarian/recovery context
Previous experience from working in complex and volatile contexts
Documented results related to the position's responsibilities
Knowledge about own leadership skills/profile
Fluency in French and English, both written and verbal
Knowledge of Central Africa (Cameroon will be an added value) is an asset.
Experience with scaling up of humanitarian programs in strictly controlled context is an asset.
Experience in humanitarian programs in international sanctions context is an asset.
Detailed oriented and strong organizational skills. Demonstrated knowledge of protection mainstreaming and Accountability to Affected Populations
Demonstrated experience in representation and advocacy
Behavioural competencies:
Strategic thinking
Handling insecure environments
Empowering and building trust
Managing performance and development
Managing resources to optimize results
Profil du candidat
» Niveau d'expérience: Expérimenté
» Années d'expérience: Entre 3 ans et 5 ans

NOTE: LES ARNAQUEURS SONT DE PLUS EN PLUS ASTUCIEUX! N'envoyez jamais de l'argent à un inconnu au cours d'un recrutement quelle que soit la raison! Et Si vous devriez le faire, que ce soit à vos PROPRES RISQUES!
Recevez instantanément nos offres en cliquant ci-dessous: