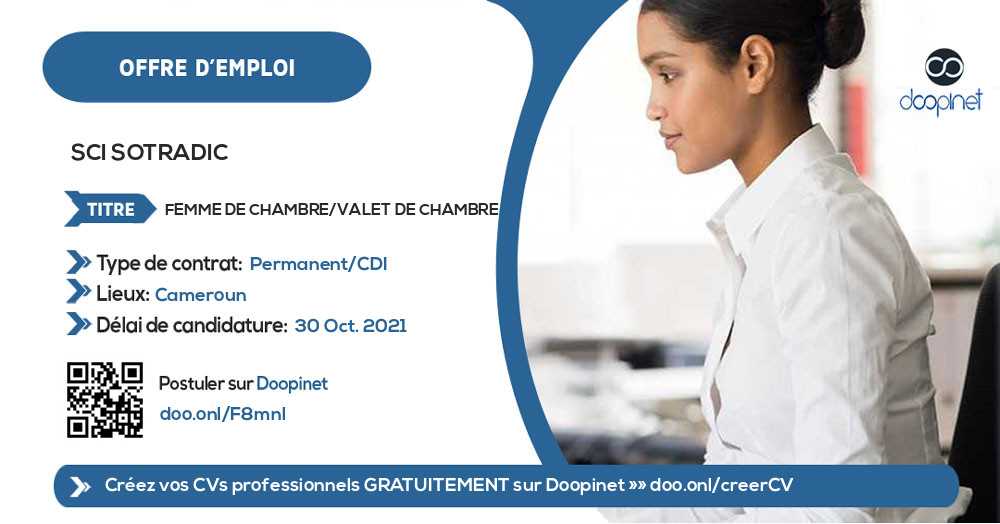 FEMME DE CHAMBRE/VALET DE CHAMBRE – Douala
Douala, Littoral, Cameroon
·
30 Oct. 2021
·
Permanant
·
Hotel - Catering
·
Maid and valet
Description
AVIS DE RECRUTEMENT
SCI SOTRADICest une Société Civile Immobilière dont le siège social est à Akwa-Douala, rond-point Salle des Fêtes, Boulevard de la République. Elle est spécialisée dans la gestion et l'exploitation de divers produits immobiliers, notamment la mise en location des logements meublés et non meublés, des espaces pour bureaux, magasins et centres commerciaux dans plusieurs villes du Cameroun, à l'instar de Yaoundé, Douala et Bafoussam.
SCI SOTRADICopère également sur le marché des résidences hôtelières. Elle fournit à cet effet plusieurs prestations, notamment: les logements meublés, la restauration, l'auto location, le service de massage, le pressing, la piscine, une salle de sport, des salles de banquet et de conférence.SCI SOTRADICdénombre trois complexes semi hôteliers dans la ville de Douala :
La Résidence le CARAT, à Bonapriso, Avenue De Gaulle;
La résidence Le Carat, située en face de la Salle des fêtes d'Akwa;
La Résidence Blue Sky, sise au feu rouge Bessengue
FEMME DE CHAMBRE/VALET DE CHAMBRE
Missions / Responsibilities / Activities
Remise en état des appartements/studios à blanc et en recouche

Nettoyage et rangement des appartements/studios
Réfection des lits et changement du linge
Nettoyage de salles de bain

Réapprovisionnement des logements en produit d'accueil et en linge
Contrôle de l'état des équipements du linge, mobilier
Job Requirements
Être de sexe féminin/Masculin
Être âgé (e) entre 23 et 35 ans
Être titulaire d'un BT en ESF ou autre + formation en hôtellerie
Justifier d'une expérience professionnelle d'au moins une année
COMPÉTENCES
Capacité à optimiser l'utilisation des produits et matériels mis à disposition
Rapidité dans l'exécution des tâches ménagères
Précision et attention aux détails
Résistance physique
Applicant profile
» 23 - 35 years old

Application Documents
» Demande d'emploi
» Carte photo entière
» Photocopie CNI
» Photocopie des diplômes/attestation
» Photocopies des certificats/attestation de travail/stage
» Curriculum Vitae

NOTE: SCAMMERS ARE MORE AND MORE SMART! Never send money to a stranger during a recruitment process for any reason! And If ever you should, please do so at your OWN RISK!
Appy Instructions
Les candidatures composées des pièces suivantes :
Une demande d'emploi (précisant le poste)
Un CV actualisé
La photocopie de la Carte Nationale d'Identité valide
La photocopie des diplômes et ou attestation de formation
Les photocopies des certificats de travail, attestation de travail et ou attestation de stage
Une carte photo entière
Seront transmises à l'adresse suivante email suivante sotradicrh@gmail.com ou alors déposées à notre Direction Générale sis au rond-point salle des fêtes d'AKWA (Douala) à l'immeuble SOREPCO avant le 30/10/2021.
Receive our offers instantly on: