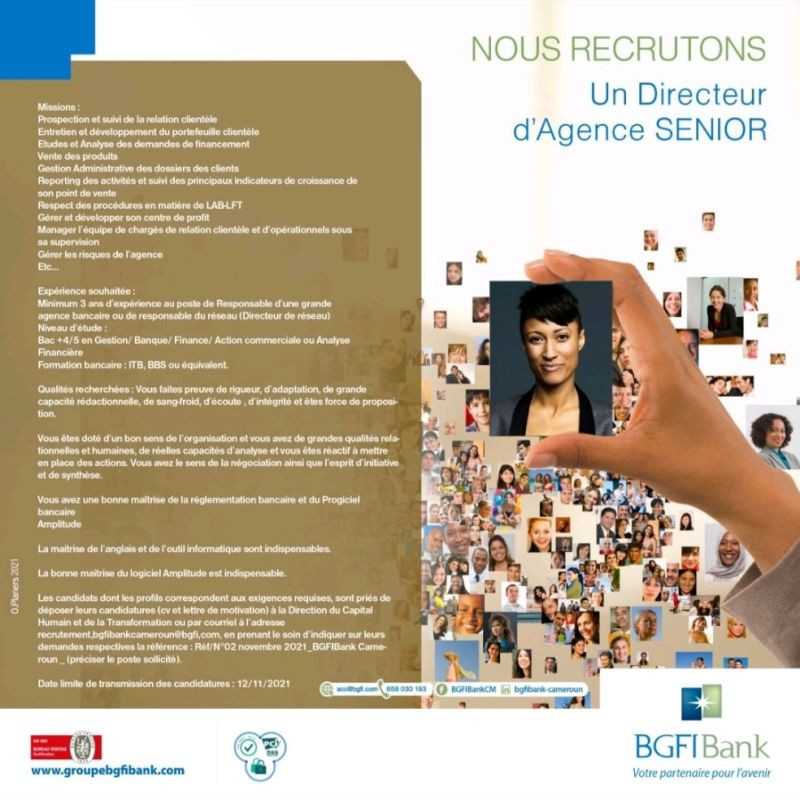 Directeur d'Agence – Douala
Douala, Littoral, Cameroon
·
12 Nov. 2021
·
Unspecified
·
Banking - Finance
·
Agency Director
Description
NOUS RECRUTONS : Directeur d'Agence SENIOR
Missions / Responsibilities / Activities
Prospection et suivi de la relation clientèle

Entretien et développement du portefeuille clientèle

Etudes et Analyse des demandes de financement

Vente des produits

Gestion Administrative des dossiers des clients

Reporting des activités et suivi des principaux indicateurs de croissance de son point de vente

Respect des procédures en matière de LAB-LFT

Gérer et développer son centre de profit

Manager l'équipe de chargés de relation clientèle et d'opérationnels sous sa supervision

Gérer les risques de l'agence

Etc…
Job Requirements
Minimum 3 ans d'expérience au poste de Responsable d'une grande agence bancaire ou de responsable du réseau (Directeur de réseau)

Bac +4/5 en Gestion/ Banque/ Finance/ Action commerciale ou Analyse Financière

Formation bancaire : ITB, BBS ou équivalent.
Vous faites preuve de rigueur, d'adaptation, de grande capacité rédactionnelle, de sang-froid, d'écoute , d'intégrité et êtes force de proposition.

Vous êtes doté d'un bon sens de l'organisation et vous avez de grandes qualités relationnelles et humaines, de réelles capacités d'analyse et vous êtes réactif à mettre en place des actions. Vous avez le sens de la négociation ainsi que l'esprit d'initiative et de synthèse.

Vous avez une bonne maîtrise de la réglementation bancaire et du Progiciel bancaire Amplitude

La maitrise de l'anglais et de l'outil informatique sont indispensables.

La bonne maitrise du logiciel Amplitude est indispensable.
Applicant profile
» Experience Level: Medium
» Years of work experience: Between 3 years and 5 years
» Minimum Education Level: Master's Degree

Application Documents
» Lettre de motivation
» Curriculum Vitae

NOTE: SCAMMERS ARE MORE AND MORE SMART! Never send money to a stranger during a recruitment process for any reason! And If ever you should, please do so at your OWN RISK!
Appy Instructions
Les candidats dont les profils correspondent aux exigences requises, sont priés de déposer leurs candidatures (cv et lettre de motivation) à la Direction du Capital Humain et de la Transformation ou par courriel à l'adresse recrutement.bgfibankcameroun@bgfi.com, en prenant le soin d'indiquer sur leurs demandes respectives la référence : Réf/N°02 novembre 2021_BGFIBank Cameroun _ (préciser le poste sollicité).
Date limite de transmission des candidatures: 12/11/2021
Receive our offers instantly on: