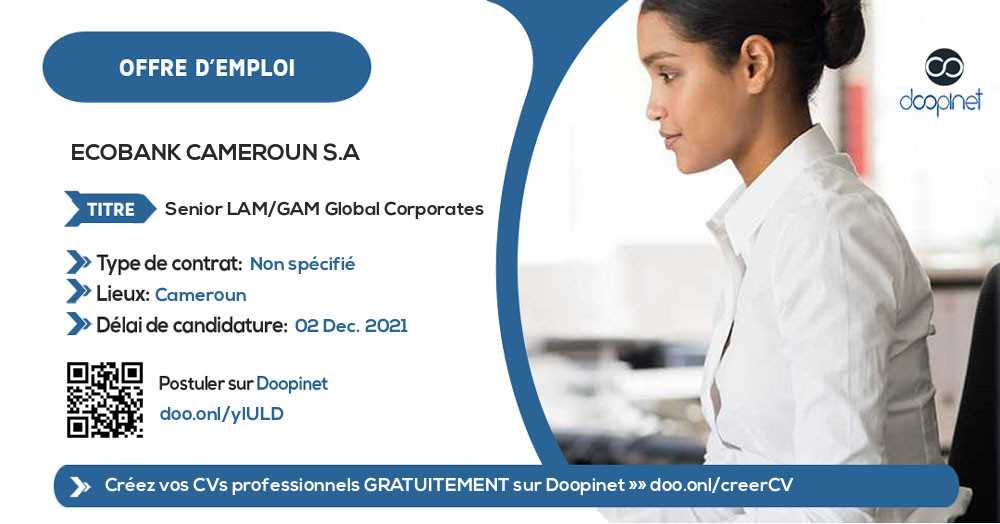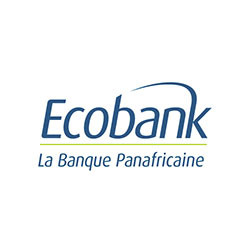 Senior LAM/GAM Global Corporates – Yaoundé
Yaoundé, Centre, Cameroon
·
02 Dec. 2021
·
Non spécifié
·
Publicité - Marketing
·
Directeur commercial et marketing
Description
We are hiring a ''Senior LAM/GAM Global Corporates''ready to work across the national territory.
Job level: 8 Job
Gade: 4B
The position is based in Douala.

Missions / Responsabilités / Activités
Drive Global Corporate (GC) Strategy design and execution
Interaction with senior management of the bank on matters regarding global corporates.
Manage GC relationships and act as principal point of contact for all GC relationship.
Product Sales: FICC, Loans and Liquidity, Trade, Cash Management
Customer Experience: Principal responsible for delivering world class customer experience to GC clients.
To act as Facility Agent in relating with Borrowers/ existing facility agency role currently mandated
Portfolio manager for GC to ensure the portfolio achieves soundness, profitability and growth objectives through support of the underwriting, monitoring and sales/servicing activities for all credit related products/services.
Design, implement/ manage process improvements with regards to report generation, loan monitoring, syndicated loan administration, RCSA coordination and regulatory compliance
To identify and implement initiatives that will optimize the capabilities of existing resources and infrastructure across the unit.
Provide business analytics through trend analysis for the unit.
KEY RESPONSABILITIES

Sales
Design and implementation of sales strategy in line with assigned budget for the GC portfolio including periodic presentation of transactions in pipe to senior management.
Principal responsibility for Origination of new business in GC space up until execution and monitoring.
Responsibility for product sales (Loans & Liquidity, FICC, Cash Management, Trade Services) to global corporate clients.
Assurance of effective after sales procedures to accompany clients along the customer journey.
Coordination between product and back office teams to deliver sales pitches and execution to GC clients
Credit & Monitoring
Responsibility for gathering necessary elements from clients with respect to credit reviews.
Principal responsibility in monitoring credit performance including but not limited to covenants, triggers and external threats.
Participation and reporting to senior approvers credit portfolio performance at key forums including but not limited to watchlist committees, recovery committees etc.
Ensuing periodic controls on client archives at CAD to ensure it contains all required documentation
Process
Develop, manage and execute GC strategic and business transformation projects
Interpret information leading to the development of strategies to grow the GC's business and work closely with Unit heads to examine the growth potential/opportunities for the GC business
Administering syndicated loan agreement, including monitoring of borrower's commitments and covenants, custody of the loan documents and implementation of the instructions of lenders in accordance with the loan agreement
Preparation of dashboard detailing the quality of GC portfolio
Preparation of the GC portfolio review report that reflects state of affairs of GC risk assets
Ensure Proper Budgeting and Monthly Performance Reviews
Monitor and evaluate the performance of GC to meet set targets
Identify opportunities for significant improvement
Gather information/data to support change
Generate creative/fundamentally guided solution for efficiency improvement
Manage and provide guidance to team members on the execution of assigned scope of work in an effective and efficient manner
To write reports and make presentations
Monitor industry trends and conduct environmental scans
Monitor the progress of all disbursed loan & ensure that all documentation requirements are met
Escalate all urgent/risk issues through appropriate channels
Manage GC process and operational performance (including RCSA coordination and compliance) including monitoring of all operational risk issues including but not limited to clearance of import declarations, export declarations, FX inflows, Branch KYC documentation etc
Customer
Liaise with auditors (internal and external) to provide all requested documents for audit
Ensure Smooth Internal and External Audit Process
Manage relationship with customers (internal and external) to ensure that engagement teams deliver the agreed services in line with client requirements and expectations.
Team
Liaise with stakeholders (i.e. Colleagues in Business, OPS, LEGAL, RISK, FINCON, TSG, Human Resources, Information Technology etc.) to ensure seamless performance.
Line Manager: Head of Corporate Banking
Compétences / Exigences / Qualités
BSc, Professional Qualification or Masters an advantage.
Minimum of 3-5 years in related role
Ability to manage multiple deliverables within strict timelines

The ideal candidate will be highly analytical with a logical approach to problem solving Ability to interact and negotiate with the client organization at the Local decision-making level;
Customer focused & results orientated;
Good verbal and written communication skills in relevant languages to the accounts assigned;
Ability to pull together various resources to sell and deliver customer solutions;
Good organizational and time management skills are highly desirable;
Result driven team player;
Inclusive, flexible, savvy and sensitive to client culture
Skills & Capacities

Ability to interact with internal and external stakeholders at very senior level
Interpersonal skill
Analytical/problem solving skill
Good Presentation skill
Communication skill
Excellent customer service orientation
Proficient with numbers, statistics and logics
Good understanding of products, process and Business environment
Good understanding of the Financial Market
Good analytical and interpersonal skills
Institutionalizing changes
Knowledge of data management, systems analysis and design
Attention to details
Goal driven and result oriented
Profil du candidat
» Niveau d'expérience: Expérimenté
» Années d'expérience: Entre 3 ans et 5 ans
» Niveau Académique Minimum: Master

Documents de candidature
» Motivation Letter
» Curriculum Vitae

NOTE: LES ARNAQUEURS SONT DE PLUS EN PLUS ASTUCIEUX! N'envoyez jamais de l'argent à un inconnu au cours d'un recrutement quelle que soit la raison! Et Si vous devriez le faire, que ce soit à vos PROPRES RISQUES!
Instructions de candidature
Please submit your CV and motivation letter to ECM-Recruit@ecobank.com latest December 2nd, 2021 at 5pm prompt, with the subject « Senior LAM/GAM Global Corporates » »
Ecobank Cameroon is an equal opportunity employer and will not discriminate on the basis of gender, religion, ethnicity, physical ability, etc…
NB: Only applications matching with the desired profile will be contacted.

Recevez instantanément nos offres en cliquant ci-dessous: