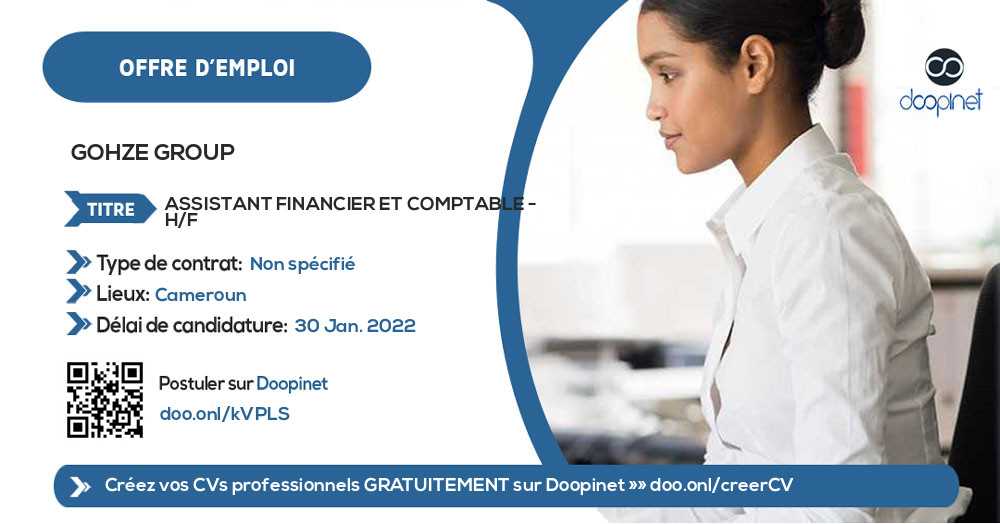 ASSISTANT FINANCIER ET COMPTABLE H/F – Yaoundé
Biyem-Assi, Yaoundé, Centre, Cameroon
·
30 Jan. 2022
·
Unspecified
·
Banking - Finance
·
Financial Assistant
Description
NOUS RECRUTONS UN/EASSISTANT FINANCIER ET COMPTABLE

Missions / Responsibilities / Activities
Prévoir les résultats mensuels, trimestriels et annuels
Accepter ou refuser les budgets
Gérer les risques
Evaluer et décider des investissements
Gérer la comptabilité de l'entreprise
Allouer les ressources et gérer les liquidités
Réaliser des analyses sur les couts et les bénéfices
Elaborer des procédures sécurisées pour préserver la confidentialité des informations
S'assurer de la conformité aux règlementations financières pour l'ensemble des activités comptables et des audits internes
Consulter les options et sources de financement
Recommander des solutions pour réduire les couts.
Job Requirements
EXIGENCES :
Bonne compréhension de la gestion de la trésorerie, la comptabilité
Expérience pratique dans la gestion des risques et budgétisation
Solides connaissances dans l'analyse des données et les modèles de prévisions
Maîtrise de l'ERP ODOO (Optionnel)
Solides compétences analytiques et décisionnelles.
QUALIFICATIONS REQUISES :
Minimum BAC+5 en banque et finance, comptabilité
Sens aigu de l'organisation
Rigueur
Bonne capacités de gestion budgétaire
Bonne capacité rédactionnelle
Aptitudes de travailler en équipe
Applicant profile
» Minimum Education Level: Master's Degree

Application Documents
» Curriculum Vitae

NOTE: SCAMMERS ARE MORE AND MORE SMART! Never send money to a stranger during a recruitment process for any reason! And If ever you should, please do so at your OWN RISK!
Appy Instructions
Veuillez cliquer sur le bouton Postuler ci-dessous pour soumettre votre candidature
Receive our offers instantly on: