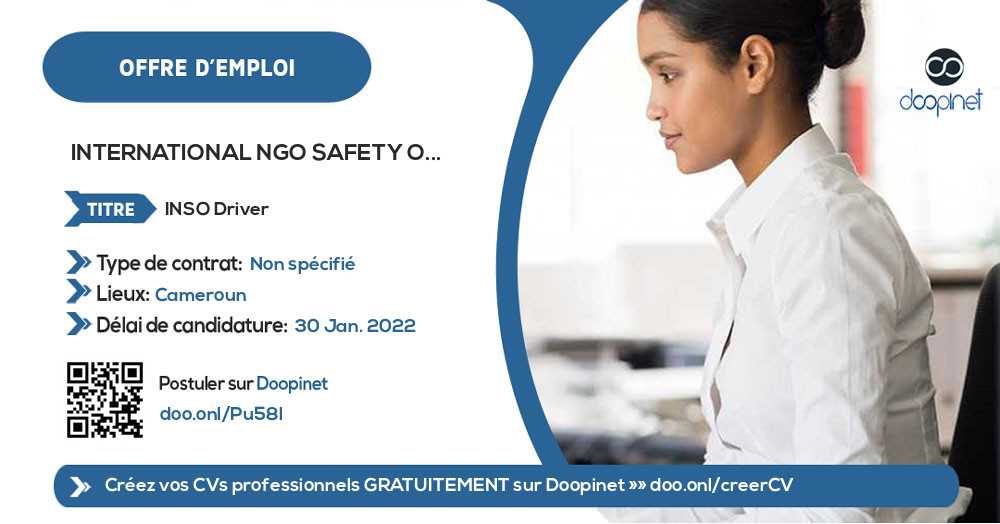 INSO Driver – Buea
Buea, Southwest (Sud-Ouest)., Cameroon
·
30 Jan. 2022
·
Non spécifié
·
Transport - Logistique
·
Chauffeur
Description
Organisation Background:
Founded in 2011, the International NGO Safety Organisation (INSO) is an international charity that supports humanitarian aid workers by establishing safety coordination platforms in insecure contexts. INSO provides registered NGOs with a range of free services, including realtime incident tracking, analytical reports, safety-related data and mapping, crisis management support, staff orientations and training. INSO services help NGOs with their day-to-day risk management responsibilities and improve their overall situational awareness to support evidence-based humanitarian access decisions.
INSO provides daily support to more than 1000 NGOs operating in 17 of the world's most insecure countries and has earned a strong reputation for its performance, principles and professionalism.
As of April 2019, INSO is registered as a charity in the Netherlands with its global headquarters now based in The Hague, the international city of peace and justice.

INSO Cameroon

INSO has been covering the Far North region of the country under INSO's Lake Chad Basin regional platform that supports more than 121 NGOs to deliver vital aid and assistance to 8 million people across the region. INSO Cameroon will now become a stand-alone platform and continue to cover the Far North region from Maroua and extend the operation to the northwest and south-west regions with a field office in Buea and the country office in Yaounde.

INSO is now seeking a National experienced professional to join our team as Driver for Cameroon- Buea.
Missions / Responsabilités / Activités
Job Summary
The purpose of this position is to ensure the transporting of goods and persons safely toward their destination. The Driver also supports for basic administration management, such as procurement and purchases. This position reports to the INSO Logistics and Procurement Officer.
Major Responsibilities:Driving
To operate INSO vehicles as directed by the Logistics and Procurement Officer
To assist the Logistics and Procurement Officer in travel and Fleet Management.
To assist the Logistics and Procurement Officer in Procurement processes, including purchase, accommodation and travels
To maintain high standard of service to both internal and external guests.
To ensure punctuality and safe transport;
To observe the road, traffic laws and regulations of Cameroon.
Ensure that safe driving practices are adhered to including local driving codes and internally agreed standards.
Alcohol must not be consumed or present whilst on duty
Car Security & Maintenance
Ensure vehicle is kept clean, tidy and in good working condition always
Ensure vehicle is kept secure at all times
Ensure vehicle is given regular/day-to-day maintenance checks: check oil, water, battery, brakes, tyres, etc.
Ensure vehicle repairs are carried out properly by official manufacturers specifications
Prepare and submit vehicle monitoring report, including records of vehicle operations, maintenance, expenses, mileage, at end of each month
Assist the Logistics and Procurement Officer to ensure vehicle insurance and registration is updated according to schedule
Car Logbook maintenance
Log official trips, daily mileage, gas consumption, oil changes, etc;
Provide assistant the Administrative team, including but not limited to:

Facilitating immigration and customs formalities as per requirements
Delivering goods and correspondences, carrying parcels, packages, delivery and collection of official documents as per required

Any other tasks that may be assigned to you.
Compétences / Exigences / Qualités
Mandatory Requirements:
2 years' work experience as a driver
Valid Driving License and existing ability to drive 4x4 vehicles with manual gear.
Basic knowledge of administrative processes.
Fluent in spoken and written French and local languages.
Computer literate.
Preferred Characteristics:
2 years' work experience in INGO as a driver.
Key Personal Competencies
A good listener

A good communicator
Ability to Prioritize and work with less supervision
Team player 
Excellent interpersonal skills
Profil du candidat
» Niveau d'expérience: Expérimenté
» Années d'expérience: Entre 2 an et 3 ans

Documents de candidature
» Cover Letter
» Curriculum Vitae

NOTE: LES ARNAQUEURS SONT DE PLUS EN PLUS ASTUCIEUX! N'envoyez jamais de l'argent à un inconnu au cours d'un recrutement quelle que soit la raison! Et Si vous devriez le faire, que ce soit à vos PROPRES RISQUES!
Instructions de candidature
Terms & Conditions:
This is a National Position; therefore, terms and conditions will be inline with National labour law as well as INSO Cameroon National Staff Internal Rules and regulations.
INSO's Safeguarding Policy
INSO is fully committed to safe recruitment, selection and vetting of all potential new staff, trustees and volunteers and we will ensure rigorous compliance with our Code of Conduct and Safeguarding policy throughout the recruitment process. As such, the following safe recruitment practices will be applied:
All offers of employment will be conditional on receiving at least two satisfactory professional references.

INSO will ask candidates about significant gaps in employment history or frequent changes of employer and address.
All essential qualifications and relevant professional accreditations and memberships will be verified.
The successful candidate will be required to provide a valid proof of identity (passport, ID card).
All new hires will receive an orientation in INSO's safeguarding policy and procedures and associated documents (Code of Conduct, Whistleblowing etc.).
All new hires will be required to sign and abide by the Code of Conduct as a condition of employment.
How to Apply:
Interested applicants are requested to send the following to jobs@cmr.ngosafety.org and reference 'Driver-CMR.Buea' in the subject line of your email. Only shortlisted candidates will be contacted.

Cover letter specifying how you meet the mandatory requirements, your motivation in applying and what you hope to bring to INSO (1-page maximum).
Up to date CV (2-page maximum).
Please do not send any additional information (certificates, other writing samples, etc.) and keep the total size of your application under 2MB if possible.
Recevez instantanément nos offres en cliquant ci-dessous: