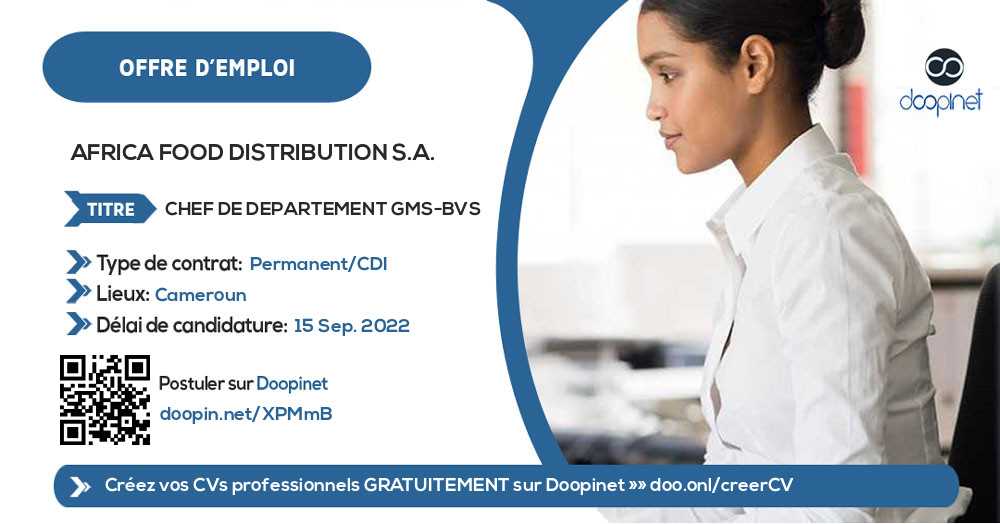 CHEF DE DEPARTEMENT GMS-BVS – Douala
Douala, Littoral, Cameroon
·
15 Sep. 2022
·
Permanant
·
Trade - Sale - Distribution
·
Sales manager
Description
OFFRE D'EMPLOI: CHEF DE DEPARTEMENT GMS-BVS
AFRICA FOOD DISTRIBUTION SA recherche actuellement pour son siège basé à Douala, un (01) : 01 CHEF DE DEPARTEMENT GMS-BVS
Missions / Responsibilities / Activities
MISSIONS
Le Chef de département GMS-BVS aura pour mission de :
Développer les ventes et la visibilité des produits dans ses canaux de distribution ;
Veiller au respect des procédures de ventes, assurer le suivi des contrats ;
Veiller à l'atteinte des objectifs de vente et d'encaissement ;
Assurer le développement des ventes en Chiffre d'Affaires et en Marges des vins et Spiritueux sur l'ensemble des canaux de distribution ;
Assurer la mise en œuvre de la politique commerciale définie par la direction auprès des clients directs (PS, GMS, PS Spécialisé) et indirect ;
Coordonner les activités du Modern Trade et du BVS du groupe ;
Participer au lancement des nouveaux produits avec l'équipe Marketing
ACTIVITES
COMMERCIALE
garantir l'objectif mensuel assigné ;
contrôler le plafond crédit et suivre le recouvrement ;
encadrer et suivre les équipes du Prestige ;
préparer un plan trimestriel Modern Trade, HORECA à faire valider par sa hiérarchie,
exécuter les activités telles que planifiées ou accordées avec la hiérarchie ;
collaborer avec les autres départements pour le succès de toute opération ou activation dans le canal ;
assurer la couverture et de la distribution dans son canal ;
composer avec le Marketing pour une bonne visibilité et un bon nombre de facing pour toutes les variétés ;
garantir l'application et le suivi des vecteurs de vente ;
suivre et veiller à la satisfaction des clients prestiges ;
conseiller les clients et leur proposer des solutions techniques ;
fournir une assistance en service après-vente ;
construire une Base De Données exploitable du canal ;
faire de la veille concurrentielle ;
soumettre un rapport hebdomadaire et mensuel au Directeur Commercial,
être une force de proposition ;
garantir la réalisation de tous nos indicateurs de performances en BVS (Distribution, Vente, procédure, Service Client) ;
élaborer en collaboration avec la Direction Commerciale et mise en œuvre de la stratégie de développement commercial sur le segment vins et spiritueux ;
suivre et développer le portefeuille clients existants ;
assurer la distribution numérique de nos marques dans le canal On Trade et Off Trade par le biais de la force de vente des distributeurs ;
proposer et appuyer sur le terrain des actions commerciales de promotion et d'information sur les produits en liaison avec le Chef Produit alcool ;
animer et manager le réseau de distributeurs et sous agents ;
prospecter de nouveaux distributeurs spécialisés Vins et Spiritueux ;
suivre et Manager la force de Vente Vins ;
assurer la veille concurrentielle et le reporting à la Direction Commerciale.
COMPTABLES
Veiller à la collecte et transmission des bordereaux de versements et liasse commerciale conformes ;
Suivre des créances et effectuer des rapports sur le niveau des créances échues et les plan de recouvrement;
Produire la situation du risk analysis Partenaire Stratégique GMS chaque mois avec les actions à entreprendre.
CONTROLES
Assurer le respect des procédures et la protection du patrimoine du territoire dont il a la charge ;
S'assurer du bon respect des procédures commerciales en vigueur au sein de l'entreprise ;
Renforcer le dispositif de contrôle à priori (conformité BL BC FACT. vs spécimen signature) ;
Assurer le suivi des livraisons des produits commandés.
MANAGEMENT
organiser et optimiser le temps de travail de son équipe (élaboration ou contrôle des Plannings de son équipe, répartition des tâches, adaptation en fonction de l'affluence) ;
organiser des réunions d'équipes régulières afin de redescendre l'information de la direction ;
veiller à la mobilisation des équipes en fonction de la stratégie commerciale et marketing ;
déléguer en fonction de l'expérience de son personnel. ;
Job Requirements
Niveau académique : Bac + 4/5 en commerce et Distribution
Formation et/ou qualification complémentaires (atout) : Techniques de ventes
Expérience professionnelle : minimum 5 ans à un poste similaire
Autre exigence : permis de conduire
Avoir une capacité à négocier et à proposer les évolutions susceptibles d'améliorer les performances des structures auditées ;
Avoir une aptitude à rédiger de manière claire et synthétique ;
Avoir une maîtrise des outils informatiques de base (world, excel, PowerPoint) ;
Avoir une maitrise des techniques de modélisation de processus ;
Applicant profile
» Experience Level: Director
» Years of work experience: Between 5 years and 8 years
» Minimum Education Level: Master's Degree

Application Documents
» Lettre de motivation
» Curriculum Vitae

NOTE: SCAMMERS ARE MORE AND MORE SMART! Never send money to a stranger during a recruitment process for any reason! And If ever you should, please do so at your OWN RISK!
Appy Instructions
Cliquer sur le bouton Postuler pour envoyer votre candidature en ligne
Ou envoyez-nous vos documents de candidature à l'adresse email recrutement@africafooddistribution.com
Word PowerPoint Excel
Receive our offers instantly on: