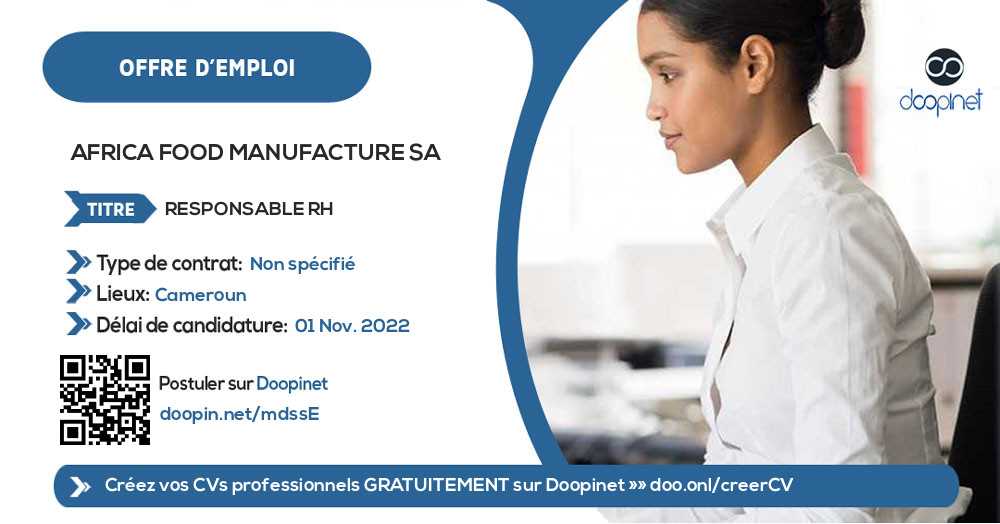 RESPONSABLE RH – Douala
Douala, Littoral, Cameroon
·
01 Nov. 2022
·
Unspecified
·
Human Resource
·
Human resources manager
Description
OFFRE D'EMPLOI: RESPONSABLE RH
AFRICA FOOD MANUFACTURE SA recherche un RESPONSABLE RH Rattaché à la Direction des Ressources Humaines Groupe
Missions / Responsibilities / Activities
Le Responsable RH aura pour missions de:

• Assurer le développement des ressources

• Veiller à la gestion administrative des ressources humaines conformément aux standards internes et best practices

• Apporter son expertise RH aux autres membres de l'équipe

ACTIVITES

Participation à la définition de la stratégie RH

• Appréhender et décliner la stratégie RH de l'entreprise en fonction de la population gérée.

• Déterminer les projets phares en fonction de cette stratégie et des attentes des opérationnels (les faire remonter auprès de sa hiérarchie).

• Proposer et faire valider la nature et l'échéancier des projets RH auprès de sa hiérarchie. Conseil et support auprès des opérationnels

• Répondre aux demandes des opérationnels sur tous les domaines des RH (droit du travail, formation, recrutement, contrats de travail, gestion des carrières, rémunération, gestion des IRP...).

• Faire appel, si nécessaire, à des expertises pointues (en interne ou en externe).

• Apporter son soutien aux managers dans l'application du droit du travail et dans le développement des équipes (recrutement, gestion des carrières...).

• Accompagner les opérationnels dans leurs décisions relatives aux RH (recrutement, licenciement, entretien d'évaluation, promotion, conflit, contentieux social...), les aider à intégrer la variable RH dans leurs décisions stratégiques.

• Définir et veiller à l'application par les opérationnels de l'ensemble des procédures RH. Mise en place des projets RH

• Mener de façon autonome les multiples projets RH correspondant à la stratégie RH : mise en place du SIRH, nouvel organigramme, aménagement du temps de travail...

• Coordonner les activités, suivre et contrôler les mises en œuvre.

• Mettre en place les outils de suivi et de reporting RH.

• Évaluer la satisfaction des opérationnels par rapport à la prestation RH rendue et aux résultats attendus. Responsable PRP 10

• Hygiène des membres du personnel, installations destinées aux employés; formation

• Mise à jour des procédures et processus RH
Job Requirements
EXIGENCES DU POSTE ET COMPÉTENCES REQUISES PROFIL

• Niveau académique : Bac +5 spécialisé en Gestion des Ressources Humaines, Droit du Travail, Sociologie, Psychologie.

• Formation et/ou qualification complémentaires : Ecole de commerce (idéalement avec option ou spécialisation en ressources humaines)

• Expérience professionnelle : 5-7 ans minimum

• Age maximum :

COMPÉTENCES TECHNIQUES

• Polyvalence dans tous les domaines de la gestion des ressources humaines : recrutement, formation, droit social, gestion des carrières, paie. Il s'agit en effet d'un poste généraliste.

• Culture économique et financière, afin de favoriser le dialogue avec les opérationnels et d'être crédible auprès d'eux

• Connaissance des métiers de l'entreprise et en particulier de ceux qui correspondent à la population gérée.

• Maîtrise de l'outil informatique (en particulier word) et des logiciels RH TRAITS DE PERSONNALITE

• Bonne communication orale et écrite afin de nouer des relations de qualité avec les interlocuteurs internes et externes (les interfaces sont nombreuses)

• Capacités d'écoute afin de prendre en compte les attentes des opérationnels

• Souplesse et fermeté dans le cadre des relations avec les opérationnels

• Force de conviction pour faire passer les idées et les projets, ainsi qu'une certaine capacité de négociation

• Sens de l'organisation pour mener à bien ces projets et contrôler leur réalisation

• Capacité à mener plusieurs projets de front car les points d'application du métier RH sont nombreux
Applicant profile
» Experience Level: Medium
» Years of work experience: Between 5 years and 8 years
» Minimum Education Level: Master's Degree

Application Documents
» Lettre de motivation
» Curriculum Vitae

NOTE: SCAMMERS ARE MORE AND MORE SMART! Never send money to a stranger during a recruitment process for any reason! And If ever you should, please do so at your OWN RISK!
Appy Instructions
Cliquer sur le bouton Postuler pour envoyer votre candidature en ligne
Ou Envoyer CV et lettre de motivation à l'adresse: recrutement@africafooddistribution.com
Délai de candidature: 01/11/2022

Seuls les candidats présélectionnés seront contactés pour un entretien
Receive our offers instantly on: