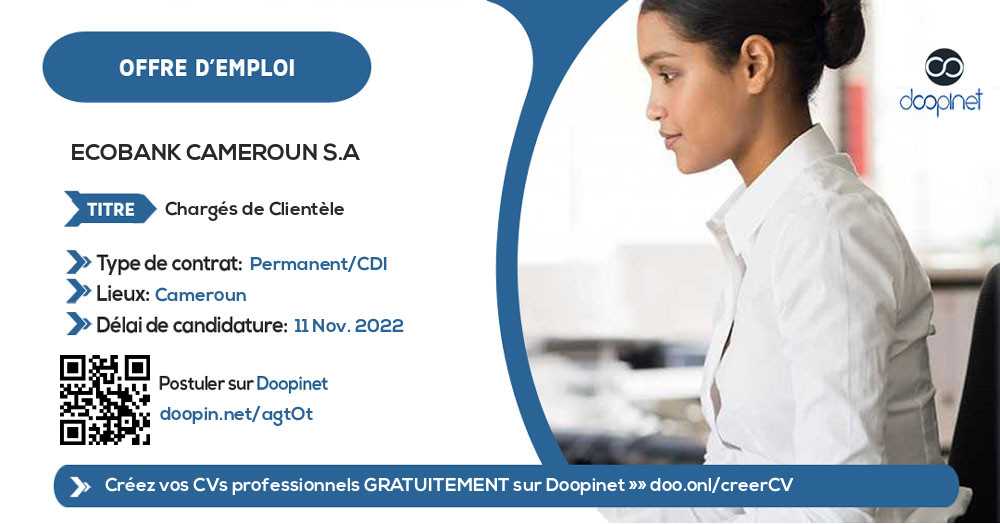 Chargés de Clientèle – Bamenda
Bamenda, Northwest (Nord-Ouest), Cameroon
·
11 Nov. 2022
·
Permanant
·
Trade - Sale - Distribution
·
Chargé de clientèle
Description
ECOBANK Cameroun SA recrutedes chargés de clientèle, prêts à travailler sur l'ensemble du territoire national.

Le poste est basé à Bamenda.

Grade du poste : 4 / Niveau du poste : 3C
Nature du contrat : CDI
Missions / Responsibilities / Activities
Satisfaire les clients grâce à des ventes de produits efficaces et à une excellente prestation de services dans le cadre du SLA pour une rentabilité accrue des clients et une part de portefeuille.
RESPONSABILITÉS CLÉS

Gestion des ventes et des services
Fournir des services, y compris l'ouverture de compte, le chéquier, les cartes, les demandes de renseignements, les chèques et les traites, etc. aux clients de manière courtoise et dans le cadre du SLA.
Fournir des conseils bancaires et des produits appropriés, des conseils et des références aux clients.
Vente croisée de canaux électroniques aux clients pour atteindre 75 % d'inscriptions des clients des succursales.
Soutenez toutes les campagnes de produits et atteignez les objectifs de connexion.
Établir des relations efficaces en succursale pour assurer une prestation efficace de l'expérience client.
Soutenir les agents de succursale et des ventes dans l'atteinte de ses objectifs de vente et de fidélisation de la clientèle. - Atteindre 5 produits par client
Migrer activement les clients vers les canaux numériques pour une meilleure expérience
Service Clients
Atteindre la note minimale du service client de "très satisfait"
Les requêtes et les plaintes des clients et, lorsqu'elles ne sont pas résolues, se réfèrent en temps opportun au superviseur.
Assurez-vous que les carnets de chèques et les confirmations sont enregistrés correctement et rapidement sur le système -
Conseiller les clients dès que les carnets de chèques, les cartes, etc. sont prêts à être retirés.
Traiter efficacement les demandes des clients concernant les produits, les relevés/soldes, les changements d'adresse, la réactivation des comptes et toute autre demande d'informations sur les comptes.
Aider les clients à utiliser les produits électroniques.
Développement personnel et travail d'équipe
Restez à jour sur tous les programmes de produits bancaires, FX, taux d'intérêt et défis économiques dans l'environnement.
Assurer la couverture des autres chargés de clientèle en cas d'absence ou de charge de travail
Risque et conformité
Veiller au respect de toutes les politiques et lois du Groupe et réglementaires.
Assurez l'exactitude de tous les documents d'ouverture de compte et suivez efficacement les procédures KYC. - Réaliser des relectures mensuelles.
Assurer la sauvegarde des documents bancaires et des éléments de sécurité.
Atteindre la cote ARR « Acceptable ».
Effectuer toutes les autres tâches raisonnablement assignées
RAPPORT :
Responsable Service Clients de l'agence
Responsable de la conception de l'expérience client, des informations et de la prestation de services
Job Requirements
Baccalauréat / HND / Licence en banque, finance ou tout autre domaine connexe.
Une expérience d'au moins 2 ans serait un plus
GESTION & CAPACITÉS
Service Clients
Compétences personnelles
Bonne communication
Travail d'équipe et coopération
Suivre les instructions et les procédures

Prise de décision et supervision
Applicant profile
» Experience Level: Medium
» Years of work experience: Between 2 year and 3 years
» Minimum Education Level: High School Diploma

Application Documents
» Lettre de motivation
» Curriculum Vitae

NOTE: SCAMMERS ARE MORE AND MORE SMART! Never send money to a stranger during a recruitment process for any reason! And If ever you should, please do so at your OWN RISK!
Appy Instructions
Cliquer sur le bouton Postuler pour envoyer votre candidature en ligne
Ou merci d'adresser votre CV et lettre de motivation à ECM-Recruit@ecobank.com avec pour objet « CUSTOMER SERVICE OFFICER »
Date limite : 11 novembre 2022 à 17 h 00
Receive our offers instantly on: