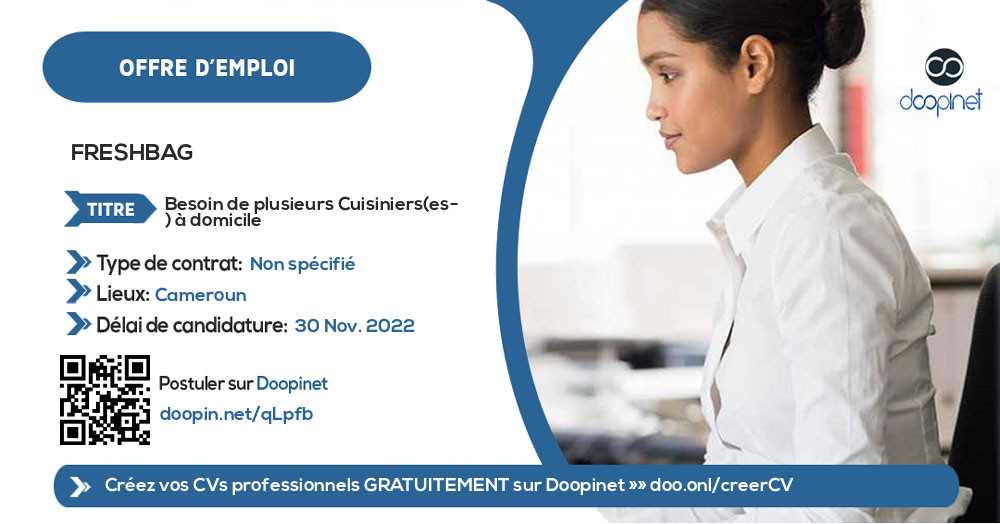 Besoin de plusieurs Cuisiniers(es) à domicile – Cameroun
Lieu, Non spécifié, Cameroon
·
30 Nov. 2022
·
Unspecified
·
Hotel - Catering
·
Cook
Salary: 60.000 - 80.000 / Monthly
Description
Pour assurer les activités de son département de production,La Coopérative Freshbagrecrute des Cuisinier(e) à domicile
Salaire :60.000 – 80.000 FCFA/mois

Missions / Responsibilities / Activities
Participer à l'achat, au contrôle et au stockage des ingrédients de cuisine
Rassembler les ingrédients nécessaires à la préparation des plats
Éplucher, couper ou encore émincer les légumes
Respecter les fiches techniques dans la bonne exécution des préparations culinaires
Veiller à l'entretien de la cuisine et du matériel
Respecter scrupuleusement les règles d'hygiène et de sécurité.
Job Requirements
Savoir utiliser correctement les équipements et les différents ustensiles de cuisine
Maîtriser la chaîne du froid et les modes de conservation des produits alimentaires
Connaître les procédures de conditionnement, de nettoyage et de désinfection
Connaître et respecter les règles d'hygiène et de sécurité alimentaire.
Les qualités recherchées :
Rigoureux
Organisé
Sens du détail et de la qualité
Passion pour la cuisine.
Disponibilité
Loyauté et discrétion
Soin et désir du travail bien fait
Conditions particulières d'exercice
Maîtrise indispensable de l'anglais et/ou du français.
Horaires hebdomadaires de travail établis en concertation avec le « Chef de production ».
Disponibilité à travailler occasionnellement en soirée ou le week-end.
Application Documents
» Lettre de motivation
» Curriculum Vitae

NOTE: SCAMMERS ARE MORE AND MORE SMART! Never send money to a stranger during a recruitment process for any reason! And If ever you should, please do so at your OWN RISK!
Appy Instructions
Cliquer sur le bouton Postuler pour envoyer votre candidature en ligne
Ou envoyez-nous vos documents de candidature à l'adresse email dev.agtx@gmail.com

Ou par Whatsapp au 690165209 La date limite de candidature est fixée au 30 novembre 2022
Receive our offers instantly on: