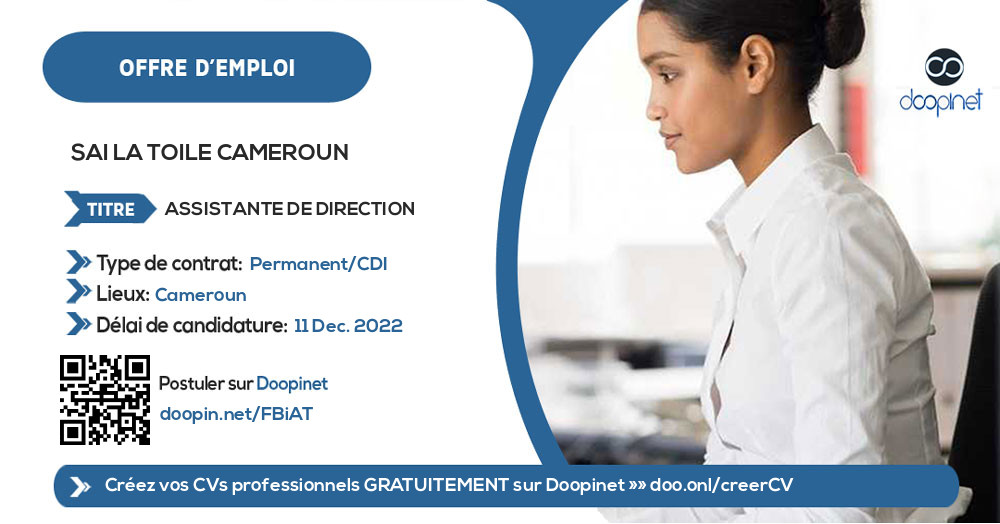 ASSISTANTE DE DIRECTION – Douala
Akwa, Douala, Littoral, Cameroon
·
11 Dec. 2022
·
Permanant
·
Secretary - Assistant
·
Executive Assistant
Description
OFFRE D'EMPLOI: ASSISTANTE DE DIRECTION
Secteur : Immobilier



Lieu : Akwa-Douala
Missions / Responsibilities / Activities
Assister le Directeur général : A ce titre, elle doit mettre toutes ses compétences et son savoir-faire au service de son département pour optimiser la gestion des activités ;
Gérer le planning, l'accueil, l'organisation des déplacements, la préparation des réunions, la communication, le suivi et traitement du courrier, etc.
Organiser et coordonner des informations internes et externes. Il peut parfois s'agir d'informations confidentielles relatives au fonctionnement de l'entreprise ;
Manager tous les événements spécifiques comme les salons, les réunions, les conférences, etc.
Filtrer les appels téléphoniques ;
Rédiger les supports de communication interne (rapports, compte rendus, notes de services…) ;
Traiter les informations (de la collecte de la mise à jour) ;
Organiser les déplacements professionnels d'un responsable, ou d'un collaborateur ;
Préparer et organiser les réunions du comité directeur ;
Préparer le conseil de gestion ;
Organiser l'assemblée générale des actionnaires (assurer le secrétariat) ;
Assister la direction générale dans la rédaction des rapports de la direction ;
Saisir, traiter et archiver les documents ;
Assurer la gestion administrative du courrier ;
Assurer les commandes de matériel de fournitures, et de consommables
Job Requirements
PROFIL RECHERCHE :
Niveau minimum : Bac+3 en secrétariat de direction, organisation administrative ou tout diplôme équivalent.
Expérience professionnelle : minimum (2) ans au poste d'assistante de direction
Age : 25-33 ans
QUALITÉS PROFESSIONNELLES :
Sens aigu de l'organisation,
Sens de la Rigueur,
Capacités relationnelles développées,
Bonnes capacités rédactionnelles,
Aptitude à travailler en équipe,
Sens de la confidentialité.
Applicant profile
» 25 - 33 years old
» Experience Level: Medium
» Years of work experience: Between 2 year and 3 years
» Minimum Education Level: Bachelor's Degree

Application Documents
» Curriculum Vitae

NOTE: SCAMMERS ARE MORE AND MORE SMART! Never send money to a stranger during a recruitment process for any reason! And If ever you should, please do so at your OWN RISK!
Appy Instructions
Envoyez votre CV à l'adresse suivante: emploi@sai-latoile.com

Date limite de dépôt de CV : 11 décembre 2022
Receive our offers instantly on: