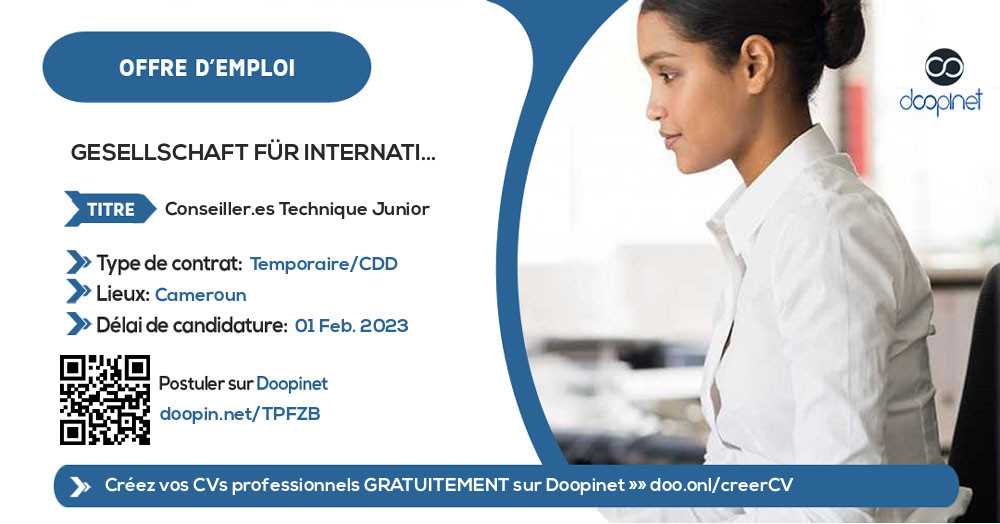 Conseiller.es Technique Junior – Yoko
Yoko, Centre, Cameroon
·
01 Feb. 2023
·
Temporary
·
Environment - Sustainable development
·
Agronomist
Description
A cet effet le Projet F4F cherche actuellementquatre (4) Conseiller.es Technique Junior temporairespour l'appui à la réalisation desdites activités.
Date du début de contrat : 15.02.2023

Période de contrat : 3 mois

Lieu d'affectation : Yoko, avec des missions dans les villages de Yoko et Nanga Eboko.

Classification interne du poste : Bande 3T sous la supervision hiérarchique du/de la Conseiller.e Technique Principal.e
Missions / Responsibilities / Activities
Plus spécifiquement, les conseiller.es technique junior temporaires sélectionnés auront comme taches de :1. Suivre une formation spécifique dispensée par la GIZ-F4F sur l'utilisation d'un outil innovant (jeu de rôle) de sensibilisation de la population sur les dynamiques locales d'utilisation des ressources naturelles sur le territoire, les conflits qui y sont liés et l'exploration des stratégies de résolution possibles.2. Organiser des ateliers de sensibilisation et de formation impliquant tous les principaux groupes d'acteurs de la cogestion des ressources naturelles (agriculteurs, éleveurs, CPF, femmes et autres catégories si nécessaire) dans les vingt (20) villages d'intervention du projet F4F dans les municipalités de Yoko et Nanga Eboko, en utilisant l'outil innovant de jeu du rôle.3. Pour chaque village, il faudra identifier :
Les principales zones dégradées
Les principaux processus de production
Les principaux acteurs impliqués dans la cogestion des ressources naturelles
Les principaux conflits concernant l'utilisation des ressources naturelles
Stratégies possibles de résolution des conflits
4. Mener des activités de communication sociale dans les vingt (20) villages pour diffuser les informations sur le projet F4F en développant et en utilisant des outils tels que :
Boîte à image
Chansons
Documentaire
5. Soutenir l'ensemble des acteurs dans l'organisation des travaux préliminaires au démarrage des négociations de la Plateforme intercommunale.
Job Requirements
Qualifications
Être titulaire au minimum d'un diplôme BAC+3/4 de préférence, en ingénierie/science agricole, forestière ou environnementale et/ou en sociologie et économie rurale ou tout autre domaine jugé équivalent.
Expérience professionnelle :
Disposer d'une expérience avérée en la matière ;
Justifier une bonne compréhensions/expérience dans la mise en œuvre des taches citées ci-haut ou similaire, de préférence dans les projets de la GIZ ;
Avoir la facilité de communiquer devant des groupes et aussi bien avec des autorités administratives qu'avec des chefferies traditionnelles
Aisance dans l'établissement des relations
Avoir une aptitude pour travailler dans un milieu rural.
Autres connaissances/compétences :
Très bonne capacité rédactionnelle
Avoir une bonne capacité d'analyse et rédaction en langue Français ;
Parler couramment au moins une des langues suivantes : Vouté, Yangavok, Bamvelé ou Foulani
Applicant profile
» Experience Level: Senior
» Years of work experience: Between 5 years and 8 years
» Minimum Education Level: Bachelor's Degree

NOTE: SCAMMERS ARE MORE AND MORE SMART! Never send money to a stranger during a recruitment process for any reason! And If ever you should, please do so at your OWN RISK!
Appy Instructions
Veuillez cliquer sur le bouton Postuler ci-dessous pour soumettre votre candidature
Receive our offers instantly on: