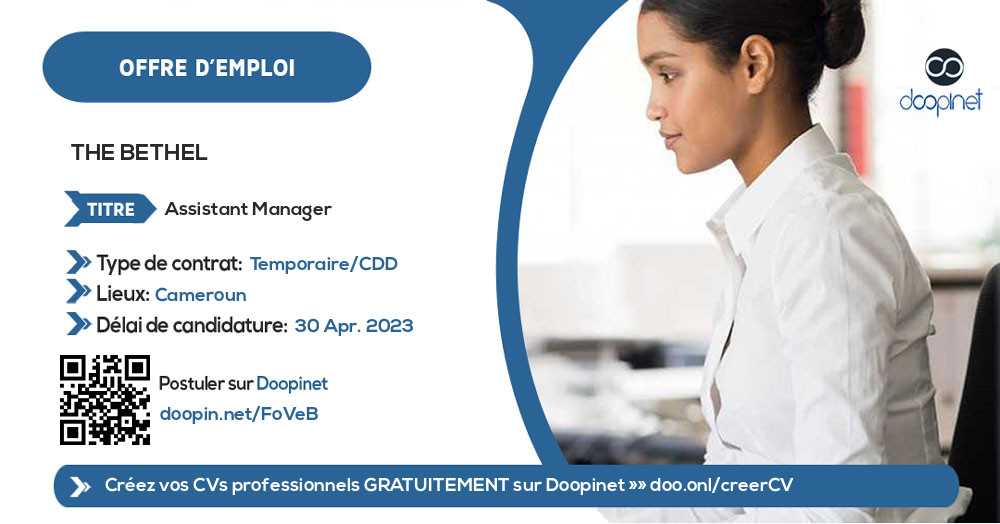 Assistant Manager – Yaoundé
Yaoundé, Centre, Cameroon
·
30 Apr. 2023
·
Temporary
·
Hotel - Catering
·
Manager
Description
Pour nous accompagner dans notre nouveau projet, notre restaurant recrute un Manager d'établissement de restauration rapide.

Nous sommes en train de créer une équipe motivée, dynamique.
Nous sommes un établissement de restauration basé au quartier Santa Barbara,Yaoundé depuis 2019.

Missions / Responsibilities / Activities
Votre rôle sera d'assister le Manager de l'établissement dans les tâches suivantes :

Définir le planning des employés (serveurs, équipiers, ...)
Surveille l'activité de l'équipe
Vérifie l'application des procédures d'organisation et de qualité de l'établissement,
Garant de l'application des règles de sécurité et d'hygiène.
Fidélise la clientèle et applique la politique commerciale de l'établissement
Gère l'activité de l'établissement et s'assure que le client soit satisfait.
S'occupe du suivi administratif et commercial de l'établissement
Forme le personnel aux procédures de l'établissement o
Réalise des préparations culinaires (assemblage, composition, cuisson, ...)
Repère les besoins en approvisionnement, passe les commandes et gère l'état des stocks.
Vérifie les produits (qualité, quantité, état) à la livraison et surveille le rangement et le stockage (chambre froide, congélateur, ...)
Choisit des prestataires/fournisseurs, négocie les conditions du contrat et surveille la réalisation des produits, de l'intervention
Effectue le comptage des fonds de caisses
Superviser le service en salle (organisation, coordination de l'équipe, réservations, retours clients, ...)
Job Requirements
Open-Minded
Goût du Challenge
Prêt à challenger le statuquo
Driven
Motivé.e à rejoindre une équipe jeune et dynamique
Application Documents
» Curriculum Vitae

NOTE: SCAMMERS ARE MORE AND MORE SMART! Never send money to a stranger during a recruitment process for any reason! And If ever you should, please do so at your OWN RISK!
Receive our offers instantly on: